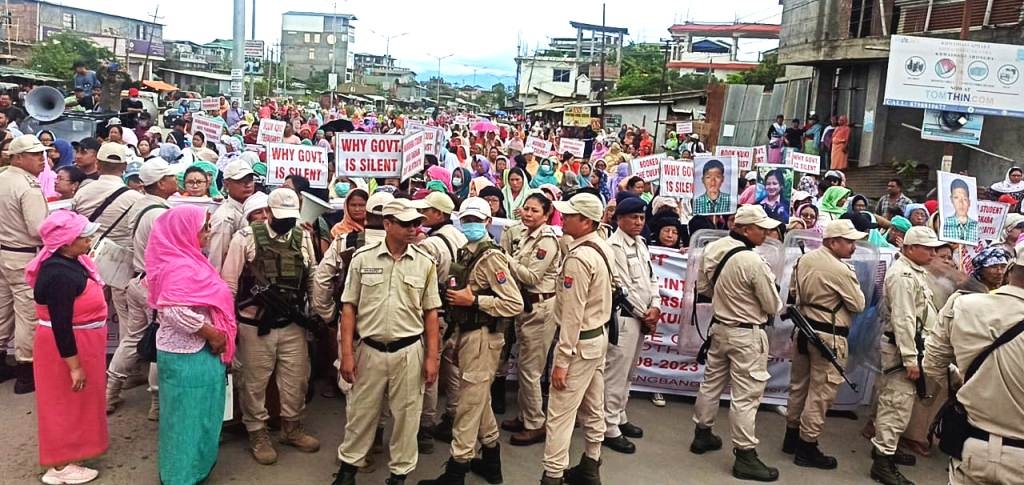 IT News
Imphal, Aug 1:
Large number of people today staged a protest rally at NH 37 in Tera Bazar, Imphal West district demanding disclosure of the whereabouts of the 2 missing students. 17 years old Luwangbi Linthoignambi Hijam and Phijam Hemanjit Singh went missing since July 6 and government have failed to find the whereabouts of the two.
Demanding to find out the whereabouts of two children, Apunba Tenbang Lup, Patsoi Assembly Constituency staged protest rally today.
The rally was joined by a large number of people mostly from Patsoi Constituency and it started from Takyel Kolom under Imphal West district and proceeded till Tera Bazaar which is about 1Km stretch. The protestors didn't allow to move further at Tera Bazaar. Security forces of both central and state control the situation and prevented from occurring any untoward incidents.
The irate protestors shouted slogans condemning harassment to innocent children and chants to book the culprit. "Why government silent, booked Kuki terrorists", fill the air of Patsoi.
Addressing the media at the sidelines of the protest, one of the protestors, Ningthoujam Kabita said that two minors have been missing since July 6. In this regard, they met government authorities including the governor, chief minister, and security adviser of Manipur. However, they didn't get any outcome of their meeting which is very unfortunate and condemnable.
She continued and informed that according to reliable sources, the two minors who went for a ride after tuition were allegedly abducted by armed Kuki militants. They were taken to Zoujangtek Kuki Village in Churachandpur district. There is a possibility of torture, rape of minor girls and burying their dead after murdering them by those armed Kuki militants.
"It has been almost 23 days since our children have gone missing. There is uncertainty that whether they are still alive or not. Please government should do something to trace the whereabouts of these two children. They are also the future of the state. Why Prime Minister Modi didn't utter single words when our children are unable to find out for such a long time," she lamented while expressing her strong condemnation against Prime Minister Narendra Modi for not treating all victims of the present crisis equally.
As per a memorandum submitted to the governor, it is stated that Luwangbi Linthoignambi Hijam, 17 years, daughter of Hijam Kulajit Singh of Sagolband Tera Tongbram Leikai under Imphal West district and Phijam Hemanjit Singh, 17 years, son of Phijam Ibungo Singh of Takyel Kolom Leikai under Imphal West have been missing since July 6. Both of them went together for a ride after finishing tuition at Keishampat Mutum Leikai in Imphal West district.
The family member informed the matter to police station. On further investigation by state police, the mobile handset used by the minor boy was located at Lamdan under Churachandpur and the mobile started operating by new SIM card of a person belonging to Kuki community residing within the jurisdiction of Loktak Police Station. From the said handset, an anonymous call was made to the mother of a minor girl. On enquiry, the caller was found to be a Kuki, the memorandum mentioned.