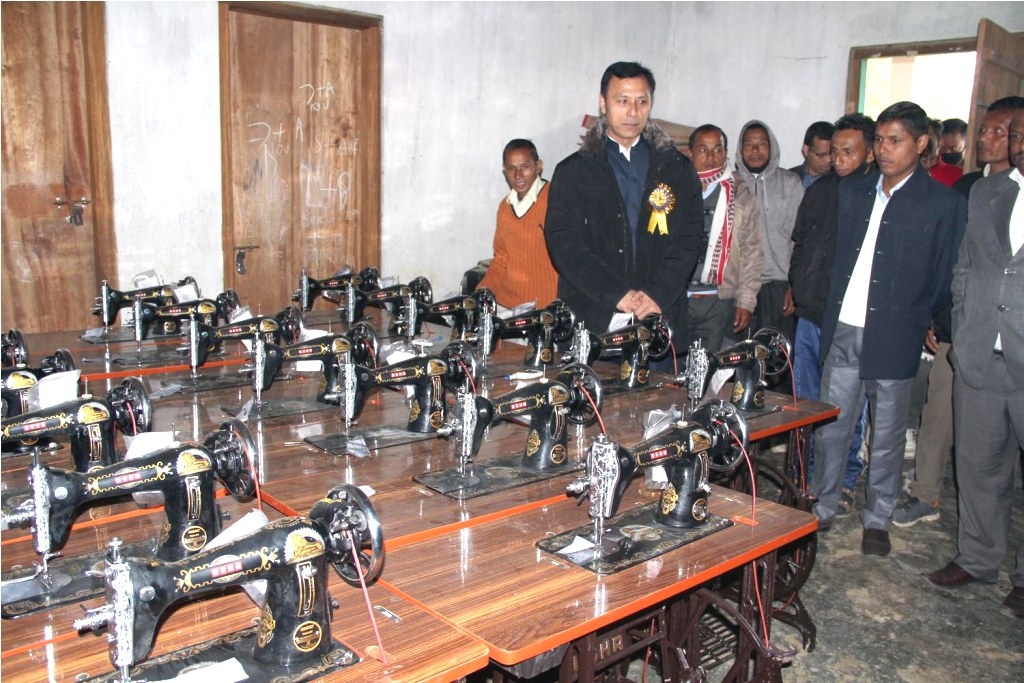 Thoubal. Jan. 8: Labour and Employment Minister Thokchom Radheshyam, distributed Labour Cards to the registered labours at Heirok Higher Secondary School, Heirok and also opened the Four Months Tailoring and Cutting Training Centre at Salungpham Kangyambem Panchayat Ghar on Sunday.
Highlighting the idea on the opening of the Four Months Tailoring and Cutting Training Centre, the Minister said that the training is provided so that the women folk could become financially independent. In Manipur there are about eight to nine lakhs students only in government school and requires at least two – two pants and shirt which is being imported from outside the state.
Once the training of the tailoring and cutting training centre is completed then these school uniforms can be made by the women who are part of this class. If this project becomes realty, he said an employee would be able to earn minimum eight to ten thousand per month, he added.
The women being selected for training belongs to the family living under below poverty line whose spouses hold the labour cards. He explained the training programme is being organised targeting those who are willing to work but does not have regular job, a proper work shed and financial support.
While distributing the labour cards, the Minister highlighted the benefits that a labourer could obtain through the card. The labour card holders can take the advantage in terms of providing education to their children, monetary help in terms of illness and in time of demise. He said money will be deposited in phase wise to the respective accounts that are entitled for such benefit.
Later Th. Radheshyam Inaugurated two waiting sheds at Bengi and another at Langmeithet Langjing Leirak which are constructed under MLA Local Area Development Fund in the presence of the locals.  The labour cards were also distributed at the Ukhongshang Mamang Leikai.