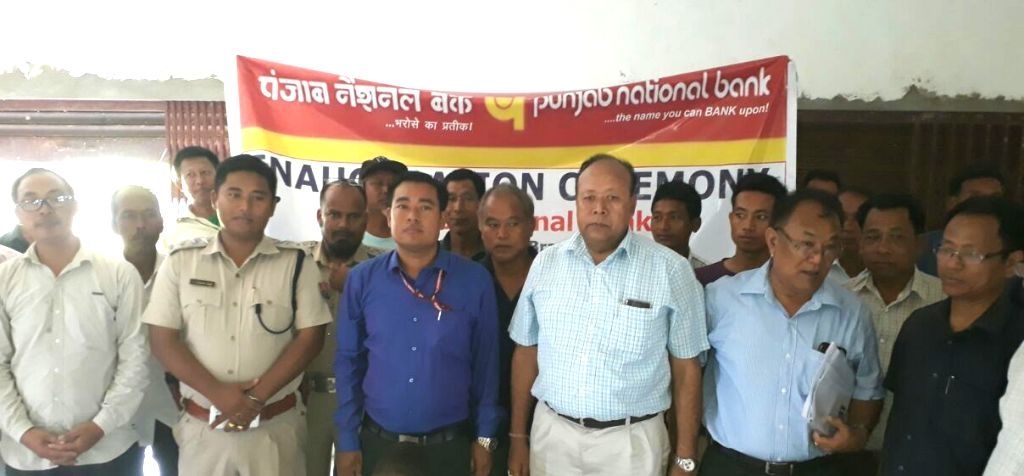 Imphal, Aug 4: A new branch of Punjab National Bank was opened at Shamulamlan BDO/SDO office complex in Churachandpur district on thursday. This is the 4th branch of the bank in the State of Manipur. The bank has already opened over 80 Branches across Northeast India.
The inaugural function  was attended by Moirangthem Subhas Singh, Senior manager Punjab National Bank Imphal Branch, Paohminglel, Chief of Shamulamlal village, Mr. Mangpu, chief of Theikakbi and SDPO, Moirang Police Station.
Mr. Baite, manager, Punjab National Bank Irilbung Branch also attended the inaugural ceremony.
Moirangthem Subhas Singh, senior Manager Punjab National Bank, Imphal branch while lauding the hard works and efforts of all concerned to the opening of the bank branch at Churachandpur, solicited the cooperation and support of the locals for the successful and smooth functioning of the bank.
Asserting that opening of the new Bank branch would help boost up the socio-economic status of the marginalised people, the rural farmers in particular, the bank manager said successful functioning of the bank would not be possible without support from the people.
Mangpu, chief of Theikakbi expressed happiness over opening of the new bank branch and assured that villagers would extend maximum support for smooth functioning of the bank branch.
It is said that the new bank branch of PNB would offer its customers world-class banking services under one roof ranging from basic services such as Saving Account, Fixed Deposits, Current Account, Mutual Funds, Recurring Deposits, DEMAT to sophisticated direct access banking channels such as ATM, Phone banking, NetBanking and International Credit and Debit Cards and all asset products.
It is reported that efforts are on to open more branches of PNB in other districts including Senapati.