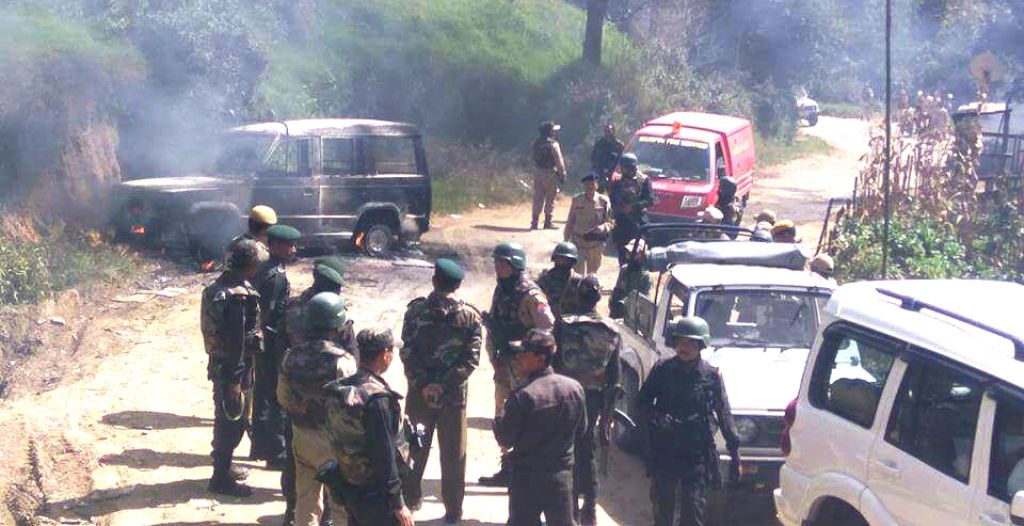 Imphal, Oct 24: Manipur's Chief Minister Okram Ibobi Singh and his Ministerial team, who were on their way to inaugurate various government structures constructed at Ukhrul district were today force to return back as state security fails to control public outcry.
A civil body called Tangkhul Naga Long (TNL) has been imposing public curfew in Ukhrul town against the inaugural spree of the structures constructed at Ukhrul district since yesterday evening. The Chief Minister and his team were scheduled to inaugurate a 100 bedded district hospital,  two power-sub stations, TD Block and Bank Building today.
Volunteers of TNL put Ukhrul Town to complete shut down by burning tyres and placing stones in the middle of the road.
Chief Minister Okram Ibobi singh along with councils of ministers including Dy. CM Gaikhangam, I. Hemochandra, Korungthang, Govindas, Preshaw shimray and Victor Keishing landed at Bakshi ground Hungpung, Ukhrul by chopper at around 9:30 am morning for inauguration of 100 bedded district hospital.
The district hospital for inauguration is just a kilometre away from the helipad, which was constructed temporarily for the CM visit.
Report reaching here said that Chief Minister Okram Ibobi  and his team waited at the helipad for 1 hours, however the security deployed at site could not clear the road because of the strong protest by TNL volunteers.
Without inaugurating the structures the Chief Minister and his ministerial team were airlifted in the same chopper for Chingai  at around 10.30 am, where another two structures – TD block and bank building are scheduled to be inaugurated.
Soon after the Chief Minister and his team were airlifted firing was heard for around 15 minutes near the helipad. The team then instead of landing at Chingai return back to Imphal.
A security personnel identified as William Tarao of 6MR was reported injured.
Earlier when the Chief Minister and his team were waiting for clearance at Bakshi ground supporters of the TNL set ablaze two vehicles.
Hours before the Chief Minister and his team landed at Ukhrul miscreants exploded two lethod bombs at a newly constructed IRB post at Hundung injuring an IRB personnel identified as Milan Maring at his right arms after being hit by splinters. 
The report added that about an hour later after the CM and team left Bakshi ground presence of heavily armed State Force and Para Military force including Assam Rifles was notice to suppress any hostile move by agitators.