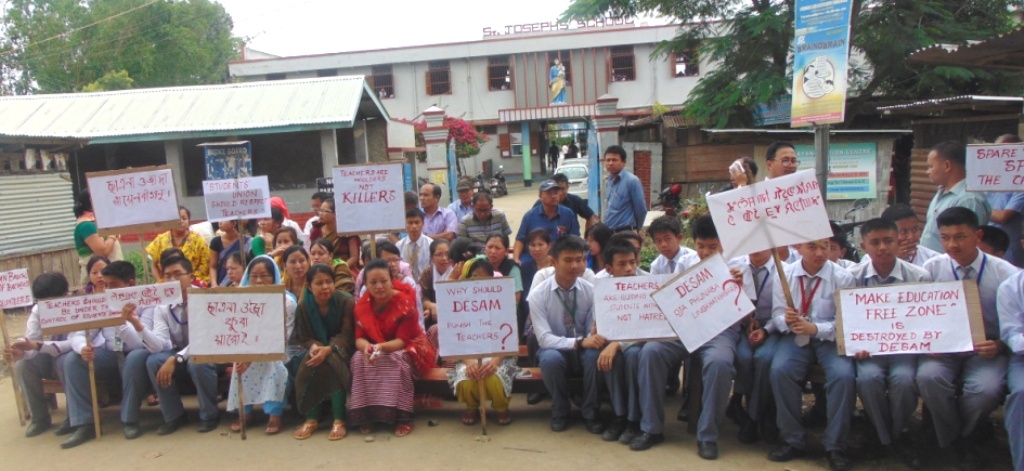 Teachers and students of St. Joseph School, Sangaiprou, Imphal today staged a protest demonstration against the assault of a teacher by volunteers of students' body DESAM. Computer Science teacher of the school Gurumayum Rupachandra (age 35), son of G. Jadumani of Uripok Achom Leikai was allegedly beaten up black and blues by volunteers of DESAM at its office room located at Keishampat yesterday evening for punishing a class VI student identified as Mayengbam Seityam for misbehaving in the classroom. Speaking to reporter the school teacher, Rupachandra said that he punished the student as he misbehave to him while asking the class to remain quite at around 1 pm yesterday. According to him he was asked to visit DESAM office by the principal of the school Father Jiten to talk regarding the matter. Soon after he reached the office at around 4.30pm yesterday the student volunteers of DESAM let him lie down at a bench and started beating him using sticks. Reporters saw several bruise marks at both his legs.
Since 10 am today morning students and teachers of the school cancelled all classes and came out in front of the school and staged the protest demonstration. Several placards condemning the act of the DESAM volunteers were also displayed during the protest.
Vice captain of the school Sedam Wangkhemcha, a student of class 10 of the school while speaking to media persons said that they cannot tolerate the barbaric behavior of DESAM volunteers and said that such act should be condemn by everyone. He said teachers have the right to punish student if they misbehave and punishment is for correcting their behavior and not for spoiling the career of the students. He appealed the student community not to repeat such action in the future.