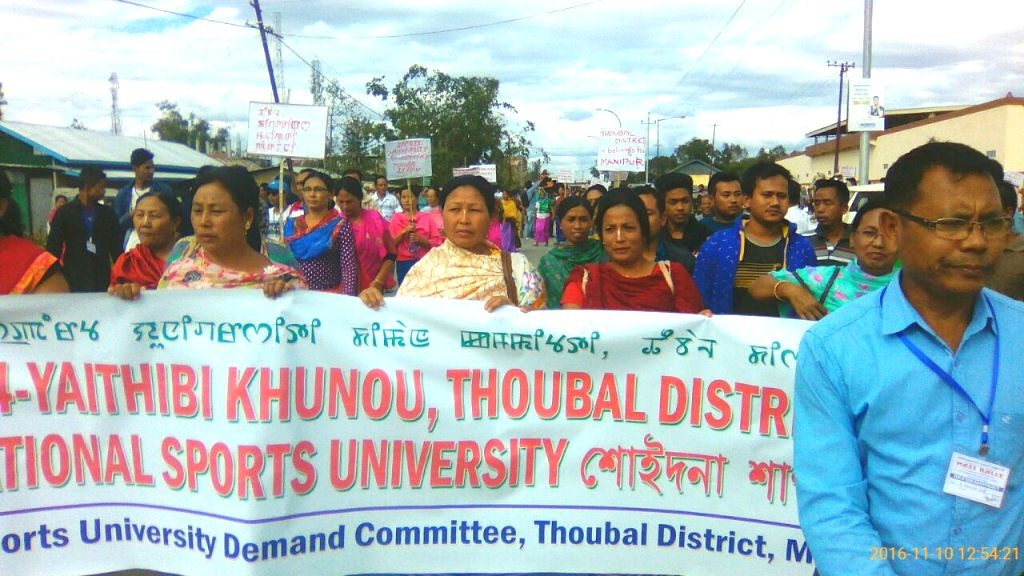 Imphal, Nov 9: Large number of people from Wangjing and Khongjom area today staged a protest rally against the government new move to shift the National Sports University complex from Yaithibi Loukol to Sanjenbam and Koutruk area in Imphal West district. The protest rally begins from two ends – one from Khongjom side and the other from Kakching Lamkhai in Thoubal district. The rally was organised under the initiative of the National Sports University demand committee at Yaithibi Loukol to apprise the central leadership for construction of the Sports University at Yaithibi Loukol where all procedure for construction of the University complex has been completed.
On the other hand people of Sora Village to staged a sit-in-protest at their village denouncing acquisition of land from at Yaithibi Loukol for construction of the sports University.
As a result large number of people who were heading towards Khongjom demanding construction of the National Sports university from Kakching site have been halted by a strong team of police.
Placards and banner denouncing the State BJP functionaries Th Chaoba and the Union Minister of YAS Independent charge Vijay Goel were carried during the rally. Words threatening serious consequences over the failure to begin construction of the Sports University were also written in the placards.
As the rally has tendency to break unwanted clashed between the rallyist and those staging protest against the establishment of the Sports University, police team prevented them from passing beyond the sign board to welcome the Kaching town. A fierce confrontation occurred between the rallyist and the police team. The police team having no choice fire rounds of tear gas shell to disperse the rallyist. Later the people from the Kaching gathered at the oil depot stand right behind the National Highway at Kakching Lamkhai.
On the other hand around 1000s people from Heirok, Khonjom and Wangjing gathered at Kodompokpi ground and begin the rally at around 12 noon. they were supposed to hold a public meeting at Slopland Public School ground. Before reaching the Slopeland School campus, the rallyist were told about the incident that took place near Sora at which the police stopped and disperse the rallyist from Kakching site on the ground that the Sora villagers too are staging protest at their village. However, police halted them at Khongjom area to foil any unwanted circumstances occurred due to the differences between people in Sora and the rallyist.
The Rally then snakes to the lane leading to Yaithibi Loukol where the National Sports Univesity was proposed to construct. Later the rally return back to Slopeland Public School and convene a meeting.During the meeting speakers decried the state BJP functionaries particularly Th . Chaoba for his instigation to the Union Minister of State YAS, to shift the NSU from Yaithibi Loukol to Koutruk area in Imphal West. Almost all speakers warned the government of serious consequences if the Sports University has been shifted from the Yaithibi Loukol to any other area.