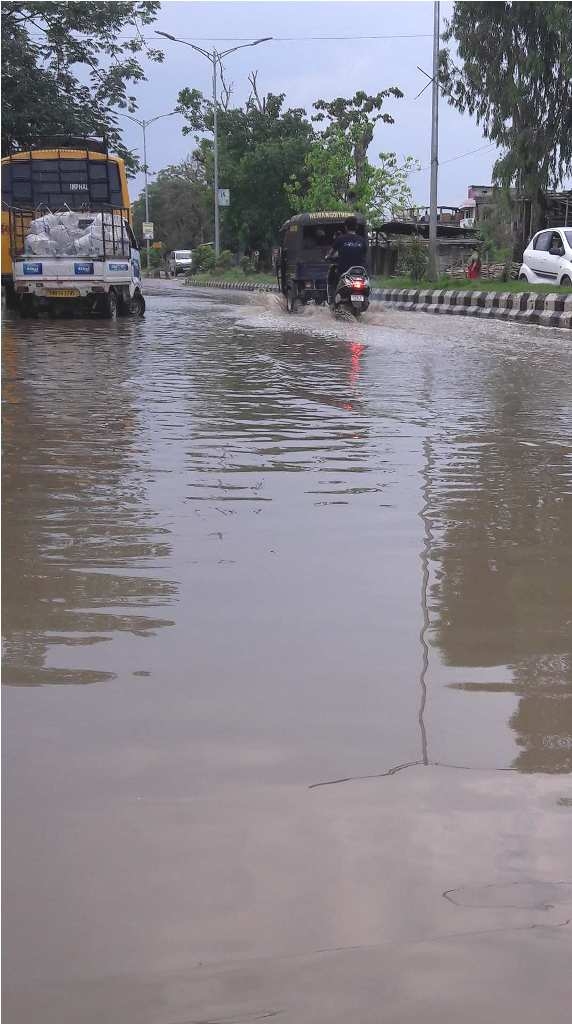 IT News
Imphal, May 6,
Pre Monsoon rain which began just 2 days back have over flow almost all major Rivers in Imphal valley. Besides, many places in the state capital including National Highways, state Highways and local streets have been flooded as rain water logged at many places due to fail drainage system which was constructed just one or two months before the last State Assembly Election held on March, 2017 failed to drain the logged rain water.
Government hectic effort of cleaning river bed at Imphal River seems to serve its purpose as the water level runs touching the tip of the river bank fearing overflow if the rain continue in the next one or two days.
The drain constructed from Keishampat to Khagempalli under along the MI road failed to drain the water from the road. Water logged was seen in front of Keishamthong Model School, causing many inconveniences to vehicular movement. The drainage system was reconstructed spending huge amount of state money which has been collected from the people in the form of tax. Crores of rupees had already been spend just some few months back in constructing the drain.
At Tiddim road the drain which is higher the road flooded the road. Many locality too are flooded as drainage system completely failed.
Skynet weather report said that rainfall recorded on Friday at 8 am was 33 mm in Imphal. Following day recorded lower but rainfall recorded till today morning was nearly 40 mm , said a source.
Last year, that is in 2017 rainfall recorded from December 9 and till December 12, was 116.1mm. Heavy damage was cause as banks of Imphal River, Nambul River and Iril River breached at many places. In Kakching, Over flow of Manipur River had destroyed several field and many houses were submerged. The rain also cause landslide at many Hill districts.
As per Skymet Weather, the conditions are still favorable for active pre Monsoon activities over most parts of Northeast India. Moderate rain is expected to occur at many places. Few heavy spells are also likely to occur at a few districts.
The intensity of showers will be more in Nagaland, Meghalaya, East Assam and Arunachal Pradesh as compared to Manipur, Mizoram, and Tripura. Along with rain and thundershower, thunder squall activity with lightning strikes will also accompany at a few parts. These pre-Monsoon activities are expected to continue over Northeast India another three to four days.