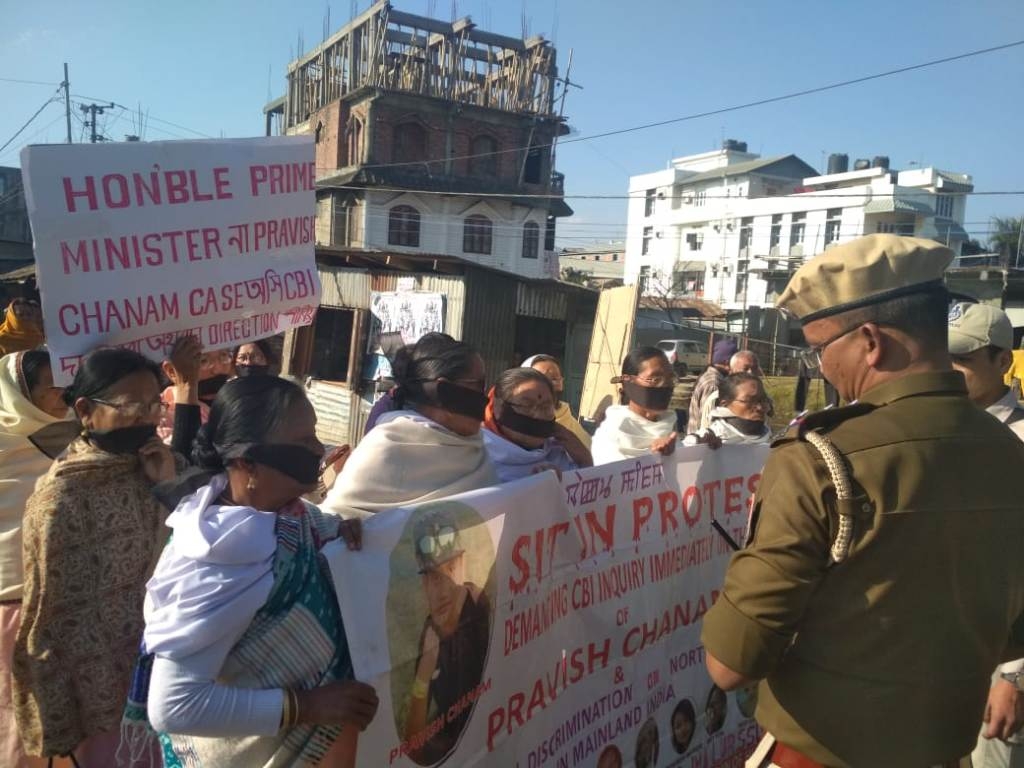 IT News
Imphal, Jan 4,
Police prevented protestors who are pressing for bringing the case of the Murder of Pravish Chanam to its logical conclusion from taking out a Rally at Yambem Leikai Uripok which was planned and started from Uripok Achom Leikai. A sit in Protest was also held earlier at Uripok Achom Leikai demanding CBI enquiry immediately on the death of Pravish Chanam and Racial discrimination on North East people in Mainland India campaigned by CSOs, Human Rights groups and student organizations. According to L Pishu, Convenor of People Action Committee Against The Brutal Killing of Pravish Chanam of Uripok Achom Leikai at Greater Noida (UP), instead of the Prime Minister of India visiting the state for canvassing for the upcoming polls for the BJP, he should use his official position to try and bring the murderers to book and bring justice for the public. The convenor further pointed out that the suspicious circumstances under which the victim was murdered and his body cremated without prior information or consent from his family members only strengthen the suspicion of the handiwork of organ traffickers in the whole sordid episode and urged the relevant authorities and state as well as central government to extend cooperation in bringing the case to closure. It may be mentioned that after the murder case was submitted to the CBI for interrogation, the state government announced that the case was accepted by the premier investigating agency but interestingly, an official letter from CBI rejected the submission citing the capacity of the UP government to solve the case with its well-equipped and professionally trained unit.
The state government has thereafter requested the PAC to refrain from carrying out any form of protest for twenty days during which it is confident of a response from the CBI. There was no response even after the stipulated 20 days and yet the state government is avoiding the support it pledged earlier towards pressing for solving the case to the authorities. The MHRC have also recommended CBI to take up the case while the brother of the deceased had filed a case at the Allahabad High Court on the matter.
In view of the recent developments and increasing participation of numerous CSO, clubs and organizations in support of finding justice, a public meeting will be held on 12 January 2019 at Mapari Ningsingol (MANIL) Uripok Machin near Cheirap Court at 11 am. The organisors are requesting the cooperation and support from all and for bringing justice for Pravish which have been denied for so long.