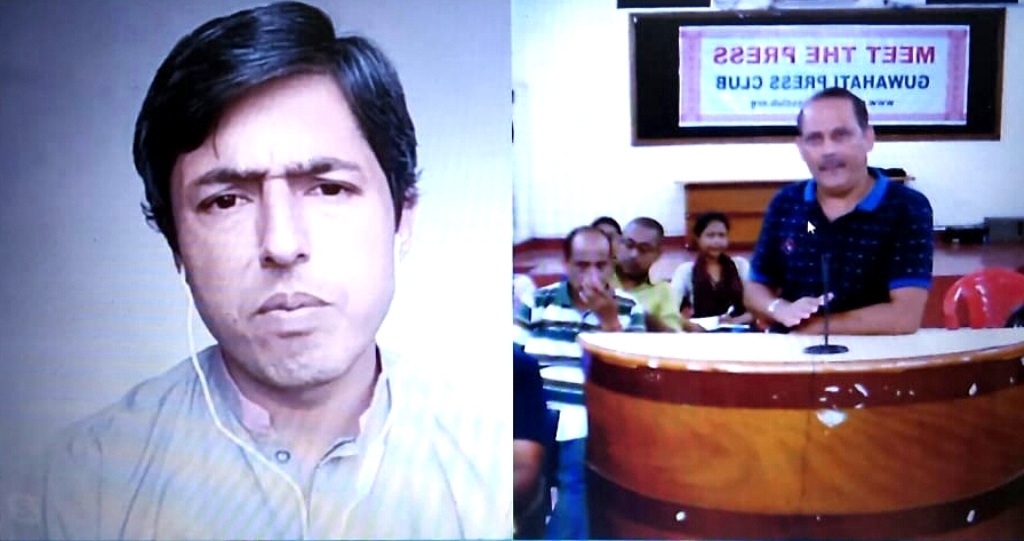 By Our Correspondent
Guwahati, Sept 29,
 Pakistan occupied Kashmir (PoK) based journalist editor Haris Qadeer on Friday favoured more people-to-people contact and exchange of ideas between all parts of Kashmir for greater regional understanding and meeting of minds. He also spoke about the challenges facing journalists in conflict zones, calling upon aspiring scribes to cultivate proper commitment and passion for the medium if they are to survive in the profession.
The young editor, while interacting with Guwahati based newsmen during the 'Meet the Press' programme organized by Guwahati Press Club through online interaction from Muzaffarabad, emphasized on frequent contact and movement of journalists to give a correct picture from various conflict zones.
Qadeer, who used to edit Urdu newspaper *Daily Mujadala*, once the largest circulated daily in PoK, expressed concern over the restricted media freedom in the area and said that people-to-people contact and exchange of ideas between different stake-holders could bring about peaceful resolution
in Kashmir.
He said that most of the issues concerning the common people in PoK are not highlighted in media as the vernacular media is not very strong and majority of newspapers that are circulated in PoK are Kashmir editions of Pakistan based newspapers. As for TV channels, these are cable operated and
not DTH, which explains the nearly zero visibility of Indian channels in that area.
Qadeer further said that the mainstream media in Pakistan are reluctant to highlight the issues in PoK as the region is geographically isolated and suffers from overall lack of development. In particular, road
infrastructure is in rudimentary condition, there is no train connectivity whatsoever, and no operational airport. "So the people here have to first move to Lahore or Islamabad by road before they can proceed to other places, mainly for health related issues," he said.
Admitting the presence of Islamist fundamentalist elements in PoK, he said that the growth of radical elements and terrorism have affected local aspirations for a greater Kashmir, which would also incorporate PoK, Baltistan-Gilgit and Aksai Chin.
 "In contrast to commonly-held belief in India, the people of PoK are neither in support of Islamabad nor in support of New Delhi but prefer to identify themselves as Kashmiri first," he said.
Speaking about the crisis facing journalists in conflict zones like PoK, Qadeer revealed that his newspaper had conducted a survey last year asking people of PoK about the future of Kashmir. However, when 73% respondents favoured freedom from Pakistani occupation and establishment of an
independent State of Kashmir, the authority in Islamabad closed down his publication. It remains closed till date.