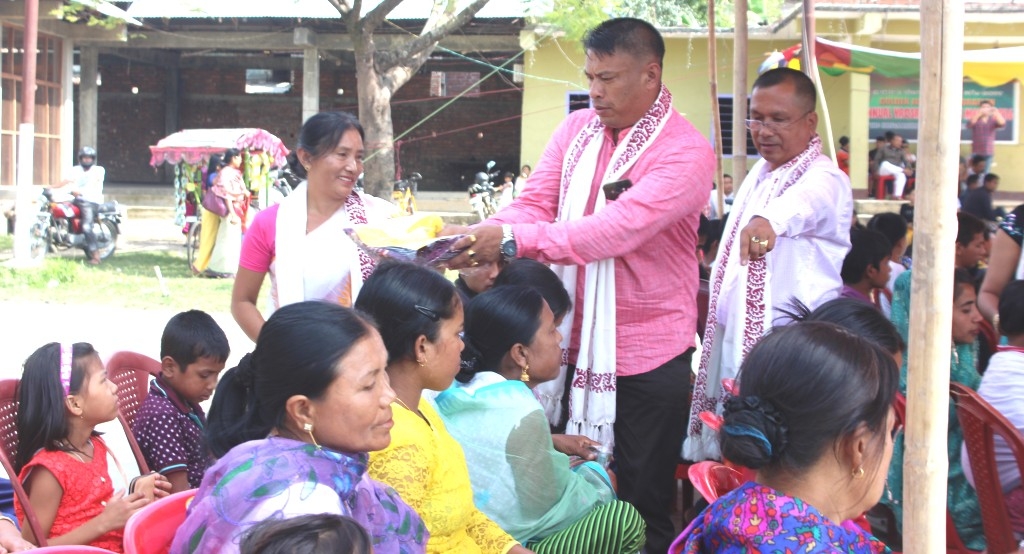 Imphal, Nov 2: Relief Centre for the welfare of Differently Abled Persons in association with Manipur State Legal Services Authority organised 4th Ningol khudol ( Ningol chakouba ) with a one day conference on the Rights of Persons with Disabilities at Hao Ground, Singjamei yesterday.
An audio MP3 disc highlighting on Acts of Persons with Disabilities released and a booklet on "the mental health Act, 1987" published by Manipur state Legal Services Authority" distributed on the said function. 
Children of orphanage and physically challenged persons who attended the function had a grant feast with eminent persons from different works of life. Volunteers of the organising committee distributed shawls as a token of love to attendees.
Dhanabir Laishram, Social Scientist attending as guest of honour stated that everyone has to come forward to fight against discrimination and social sigmatism
towards physically challenged persons. He motivated by narating about Hellen kellar and well verse story entitle "the story of real man" to move ahead differently abled persons for a successful life. Drewing govenment's attention, he emphasis to restructure public office and buildings to put ramps and other essential infrastructures. He lauded to differently abled persons to come forward breaking all kind of social barriers to participate in social functions to have a developed
and peaceful cohesive developed society.
Rk Memcha Devi Member Secretary, MASALSA  as chief guest lamented that everyone are same in the eyes of law. MASALSA provided free and compitent legal services to differently able persons. She assures to extend all possible support
to physically challenge persons and financially backward needy persons. Ch Opendro Singh, Former President Relief centre for the welfare of Differently Abled Persons in his presidential speech state that relief centre organised various programes to empower the physically challenged persons of the society. Among all those activities every year starting from world disabled day organized winter special mela to exhibit different kinds of product made by differently abled persons. Ph Deban Sharma, President AMUCO,  Rakesh Meihoubam, Director Human Rights Law Network, A Bishorjit Singh, Pradhan Sapam Leikai Gram Panchayat were among attended the function.