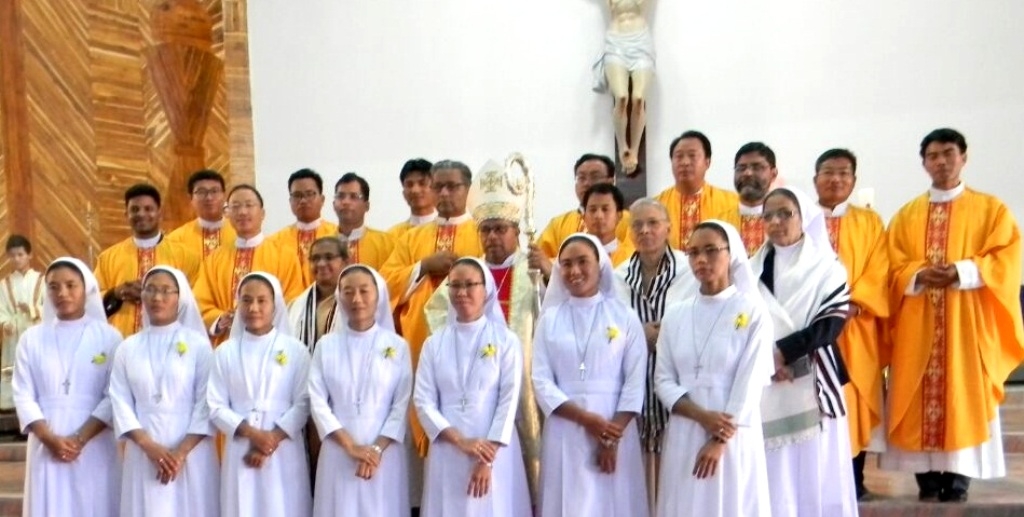 Imphal, April 25,
Final Profession was granted on 21st April, 2018 at St.Joseph Catholic Church, Viswema, Kohima Nagaland to seven nuns; Sr. Methasünü Agatha BS of Viswema Village, Sr. M. Charou Elizabeth BS of Poumai Tribe, Sr. M. Marina Therou BS of Poumai Tribe, Sr. M. Roselima Thamei BS of Rongmai Tribe, Sr. M. Roseline Dukru BS of Chakhesang, Sr. M. Line Raymond BS of Poumai Tribe and Sr. M. Silvia Daphrou BS of Poumai Tribe from the congregation of the sisters of little flower of Bethany have committed themselves in perpetual profession. On this profession they become a permanent and full fledge member of the congregation. During the rite, they make vows to remain throughout their lives in Chastity, Poverty and Obedience to their superiors and in their faith.
The rite of perpetual profession was administered by the main Celebrant, Most Rev.Dr. James Thoppil, DD, Bishop of Kohima Diocese accompanied by Rev.Fr. Charles D'Souza SJ, Parish Priest, Mary Help of Christian, Jakhama, Rev.Fr.Nicholas Kamei, Secretary to Arch Bishop of Imphal, Rev. Fr. Victor Renthungo Odyuo, Secretary to Bishop of Kohima and a host of priest, in presence of Rev. M. Lillies BS, Asst. Superior General, Mangalore and Rev. Sr. M. Joy BS, Provincial Superior, North East Province, Guwahati. Apart from the well wishers of the neighbouring Villages, the programme was attended by delegates from Mizoram and Manipur.
The main celebrant in his speech encourages the professed sisters to remain committed and steadfast to their call and commitment. He further states that love is one of the most important thing after food, as crazy things can be done out of love. Similarly, these 7 sisters out of love for their faith and missionary they sacrifice worldly desire to serve God and Humanity. During the rite, professed sisters have requested the Assistant Superior General to be professed and after which they were examined and profession was granted. The most heart touching moment of the profession was that they prostrate themselves in front of the celebrants and a traditional shawl was placed over them by their parents symbolizing giving up of worldly interest for their missionary and religious life. As a sign of their profession a ring and a cross was offered to them.
Earlier, the Eucharist programme was presided over by Sr. Sulahele Teresa BS and that of Felicitation programme was chaired by Sr. Melissa BS, a special number on Tati by VCYA enthralled the gathering. Entrance and offertory procession in traditional tune by men and women troupe.