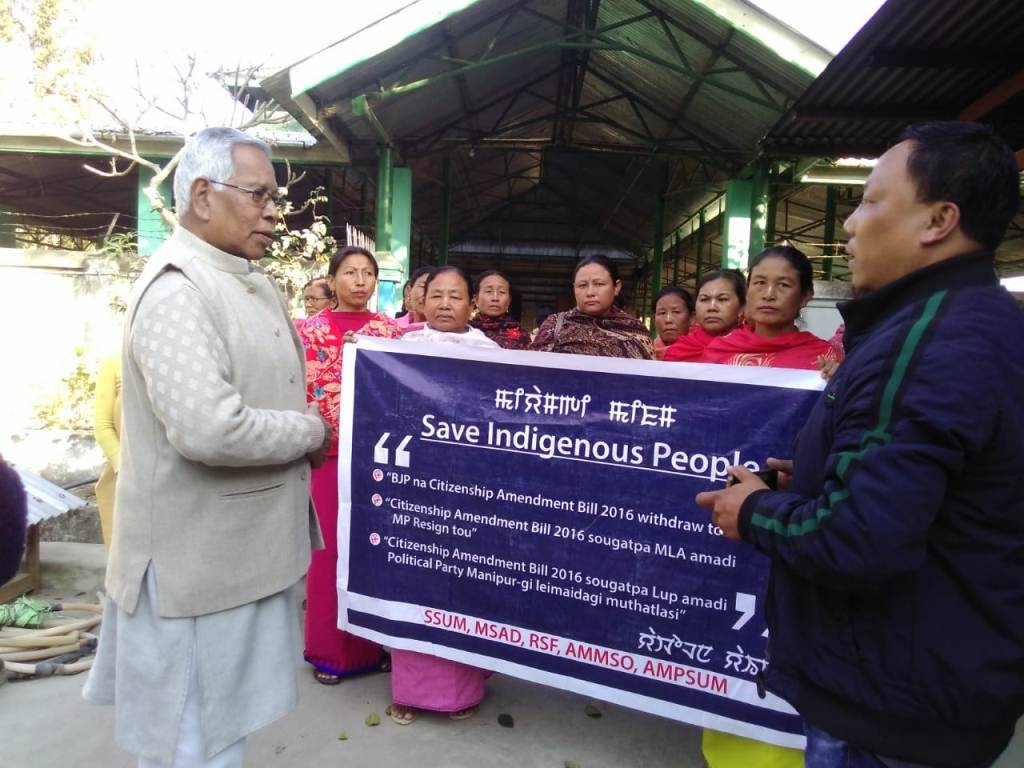 IT News
Imphal, Jan 20,
Peaceful mass demonstration against the passing of Citizenship Amendment Bill 2016 organised by Socialist Students' Union of Manipur (SSUM), Manipur Students' Association Delhi (MASAD), Reformist Students Front (RSF), All Meitei Pangal Students' Union Manipur (AMPSUM) and All Manipur Muslim Students' Organisation (AMMSO) at various places of Manipur turn violent as police dispersed the gathering particularly at Khwairamband Keithel here in Imphal.
As announced earlier by the five students bodies sit-in-protest demonstration demanding withdrawal of the Citizenship Amendment Bill 2016 were staged at various places in Imphal east, Imphal West, Thoubal, Kakching and Bishnupur district.
Report reaching here said that the protest staged at Lilong and Yairipok were disperse by the police team. The protestors than turn hostile and pour their  anger to the business runners forcing them to shut down.
At Khwairanband Keithel as many as 1000 of protestors demanding withdrawal of the Citizenship Amendment Bill were force by a police team to leave the place. The protest was staged at the Temporary market complex here in the Middle of the Imphal city. The protestors confronted for some times with the police team however, more police reinforce and use force to drive them out and foil the peaceful protest, the porters also turn hostile and force all shops and business establishment to shut down.
Normalcy at Khwairamband keithel and its surroundings was severely affected as the protestors continue the protest in another way.
At Singjamei, Apunba NUpi Lup staged a rally demanding withdrawal of the Bill from Singjamei Okram Leikai. The rally was however stopped by a strong police team at Singjamei traffic point. The protestors were heading towards Yumnam Leikai at the residence of Yumnam Khemchand , who is the speaker of Manipur Legislative Assembly.
At Konthoujam, large number of womenfolk storm to the residence of Inner Manipur MP Dr. T Meinya. Dr. Meinya who is also a congress MP said that their party is against the passing of the Bill and the Congress party will do everything that they could in the Rajya Sabha.