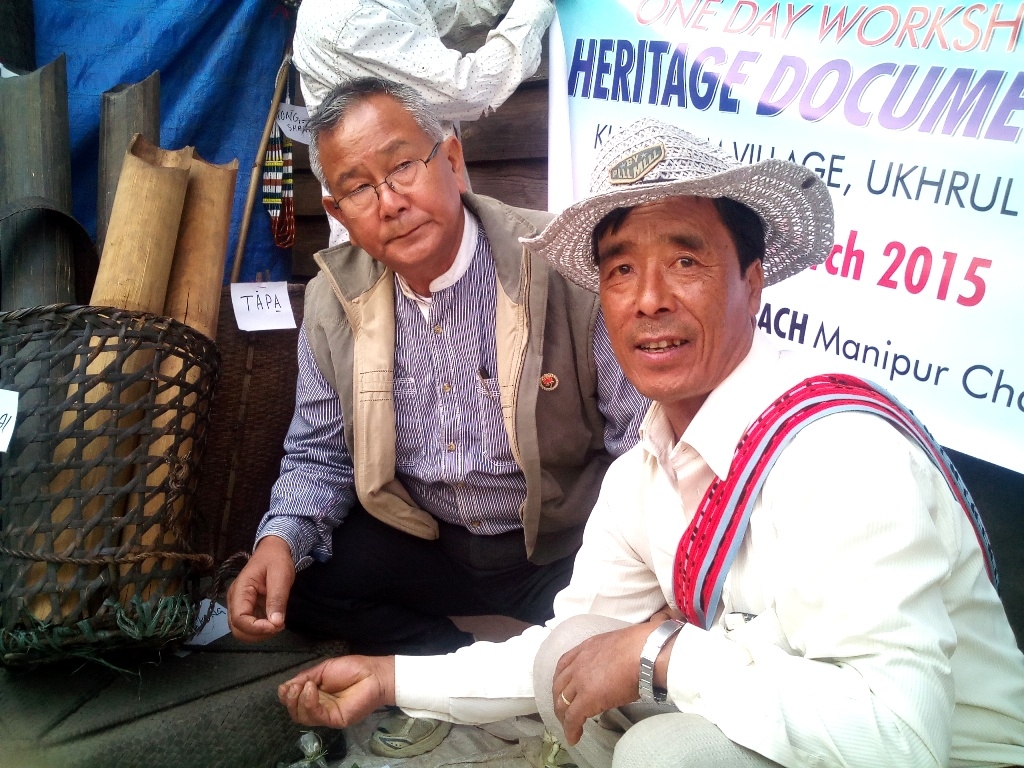 A One Day Workshop on Heritage Documentation organized by Indian National Trust for Art and Cultural Heritage (INTACH) was held at Kharmasom village of Ukhrul district on 22nd March 2015.
As per the Sub-division Hill House Survey for the year, 2011-2012, Kharmasom, an exclusively Tangkhul inhabited Village which is situated in Ukhrul north bordering Myanmar is inhabited by 487 household with a total population of 2535. The village still has no facility of electricity, healthcare, education.  The said village has been in existence since the very early times.  Locals believed that the village was so named as it is first established at the present site under the headship of a person called "Kharma" Till date, the village has a genealogy of being under the headship of 17 Village Chief, which indicates that the village is approximately about 700 years old.  The village had passed over completely to Christianity long time back. The villagers were by now very incomprehensive and incoherent about their pre-Christian religious beliefs and practices. Very little recollections they mentioned about their pre-Christian religious beliefs is that their forefathers used to believe in the existence of a creator called "Kamyou". Sacrifices are performed to Him to overcome when a person is sick or in difficult times. They believed in dreams and omens. In their belief, dreams and omens afford an unerring presage of the future. Varied ways of divination were practiced in order to make out omens. One such which they still have in their mind is "egg divination". The divination is carried out by heating an egg perforated in the top putting inside the earthen pot with burned rice husk. The omen is considered to be good if it boils without breaking its covering and bad if bursts in the bottom. But such practices have completely been abandoned after their conversion to Christianity.
Regarding the village administration, the village Chief derived his rights and powers from the customary laws. The Chieftainship is hereditary with the eldest son succeeding the Chieftainship which cannot be disputed, purchased or sold out. In case if the Chief has no son to succeed him, he will be succeeded by his younger brother next to him. If the Chief also has no brothers to take over his place, then after his death, he will be succeeded by the nearest male member of his clan. And women have no rights of inheriting immovable property, the Village Head-in-charge and knowledge elders said in a focused group interview with the INTACH members.
Artifacts and traditional items which have traditionally been used from the days of the past generations were also displayed. Those displayed items were collected and maintained by Agro Society (est. 2009) The displayed items include: jewelries, cosmetic and toiletry items, machete, spears, shield, bridal accessories, utensils, walking sticks, Dormitory furnitures, materials used in food processing, headgears, trophies of bygone headhunting days, and other household items used in day-to-day life, etc. Mr. Francis Shongvah, who is the main functionary of Agro Society and custodian of those collected artifacts expressed his desire of opening a mini museum and accordingly appealed for assistance from the government and others for the cause. The workshop was attended by INTACH members namely Dr. RK Ranjan, Convenor (INTACH Manipur Chapter), Dr. Homen Thangjam, Shri. Chaoba Takhengchangbam Sharma, Prof. N. Joykumar, Dr. Aheibam Koireng.