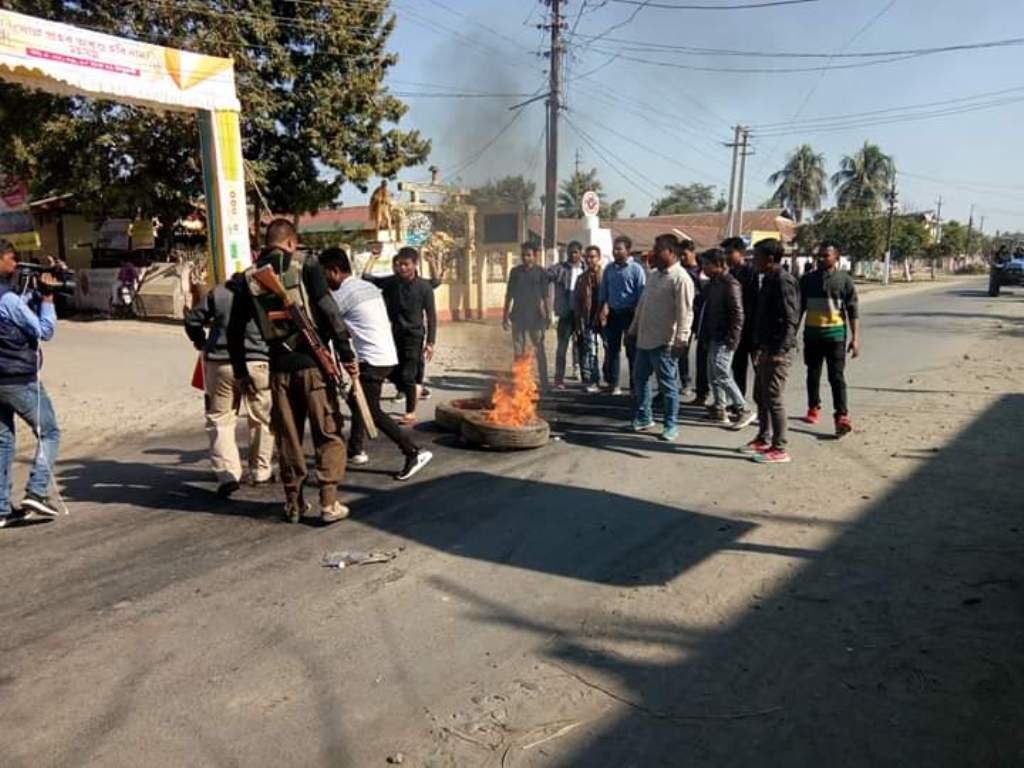 IT News
Imphal/Silchar, Jan 8,
11 hours bandh called by various organizations including the North East Students' Organisation (NESO) which began from 5 am today morning had seriously hit normalcy at almost all part of Manipur and Assam. The bandh is called protesting against the scheduled tabling of the Citizenship (Amendment) Bill, 2016 in Parliament.  
In Imphal, volunteers and supporters of All Manipur Students Union (AMSU) which is a component of NES block road at many parts of the state and vandalized some of the vehicles which violated the bandh called by the student Union. Almost all shops and business establishment at Khwairambandh keithel and its surroundings remain closed, business establishment, entertainment houses, banks and other private establishment remains closed.
Police picked up 7 volunteers of AMSU from various part and detained in custody. Those arrested are identified as – Thouba Laishram,  Yumkhaibam Bijando, Pebam Jet,  Dhanachandra Khaidem, Kangujam Rohenjit, Singam Jiteshor and Bidyasagar. Four of them were detained at City police station and remaining were reportedly detained at Imphal East Police station.
In Silchar, as many as 16 volunteers including leaders of various CSOs were detained in Silchar Police custody. Our Silchar correspondent reported that of the 16 detained by police for staging protest and blocking road against the Citizen Amendment Bill 2016, some are leaders of Assam Indigenous people protection committee (AIPPC), Manipuri Youths Front of Assam (MYFA), All Assam Students Union(AASU) and Assam Manipuri Muslim Youths Front (AMMYF).
President of AIPPC Monmahan Barman, MYFA President Seram Herajit, President of AASU Ainul Hoque Choudhary, President of AMMYF Ahamed Hussein Choudhary , Somitro Noth Gen Secy of AASU, Chittaronjon Singha Member MYFA, Th Rajesh Singha Member MYFA, Anit Singha AIPPC member, Maruk Brolorkor AIPPC Member, Abdul Zahir Larkor AIPPC member, Bapon Hussain Lorkor MDC member, Mojibin Hussain Brolokor AIPPC member, Rohan Lorkor AIPPC member, Imaj Uddin Lorkor MDC member and Robizul Alli Muzumder AIPPC member were among those arrested today
"If the Citizen Amendment Bill, 2016 has been passed, then the already endangered indigenous people of the North East region will be swept away", Seram Herajit, President of Manipuri Youths Front of Assam (MYFA) said and that the youths of the North East region is prepared to fight for protecting the indigenous people by taking up arms against them. 
Herajit warned the government to prepare for facing the music if the Bill is passed in the Parliament.
Meanwhile, unconfirmed report said that bandh supporters today burnt the office of BJP at Golaghat. Protesters in Tinsukia also burnt tyres, vandalised a hospital canteen and burnt BJP posters in the town. Railway tracks in Makum, Assam have been blocked by agitators. 
Security forces in Dibrugarh used blank fire to disperse the bandh protesters in Chief Minister Sarbananda Sonowal's home district, where the protesters vandalized BJP office.
Agitated people came out in protest against the Citizenship Bill. The BJP office situated at Amolapatty, just 100 meters from Amolapatty police outpost was vandalized by agitated protesters.
The agitated protesters pelted stones on security forces. Additional SP(HQ) Surjeet Singh Paneswar bore minor injuries. Security forces lathi-charged the people to disperse them from Dibrugarh BJP office.
Some protesters stopped CRPF vehicle near Dibrugarh University. Police used tear gas to disperse the supporters from the area. Later, the police used blank fire.
However, 20 protesters were detained by police from different area of Dibrugarh till filling of this report. Two policemen were injured in the protest.
Talking to the media, Surjeet Singh Paneswar said he got injured over pelting of stones on security forces. He said they have identified the bandh supports who vandalized the BJP office and pelted stones.
In Chabua, the bandh supporters burnt tyres at NH37 and smashed bus window.
Violence has been reported from many places of the district.
People pelted stones at moving vehicles and trucks in Nalbari, district in Assam. Several vehicles, including private vehicles and auto rickshaws, have been damaged by protesters in Azara, outskirts of Guwahati. Agitators across Assam are carrying demonstrations by burning tyres and voicing slogans in Baksa, Lakhimpur, Dhemaji, Tezpur, Golaghat. 
The 11-hour bandh started amid tight security at 5 am. Tyres were burnt at various places in Assam and vehicles were damaged in Guwahati, Tinsukia and Dibrugarh districts, the police said, an agency report quoted.
Apart from vehicles, railway tracks were blocked for a while in Guwahati and Dibrugarh district, however, trains resumed after the GRP removed protesters from the tracks, railway sources said. Train and flight schedules remain unaffected. Shops, market, financial institutions, educational institutions, private offices remained closed and private vehicles, including buses, kept off roads. People faced difficulty reaching their workplace as there was no availability of public transport, bringing normal life in the state to a halt.
News Agency ANI report said that All India United Democratic Front (AIUDF) Chief Badruddin Ajmal and All India Trinamool Congress (TMC) MPs protested against the Citizenship Amendment Bill, 2016 in the Parliament premises.