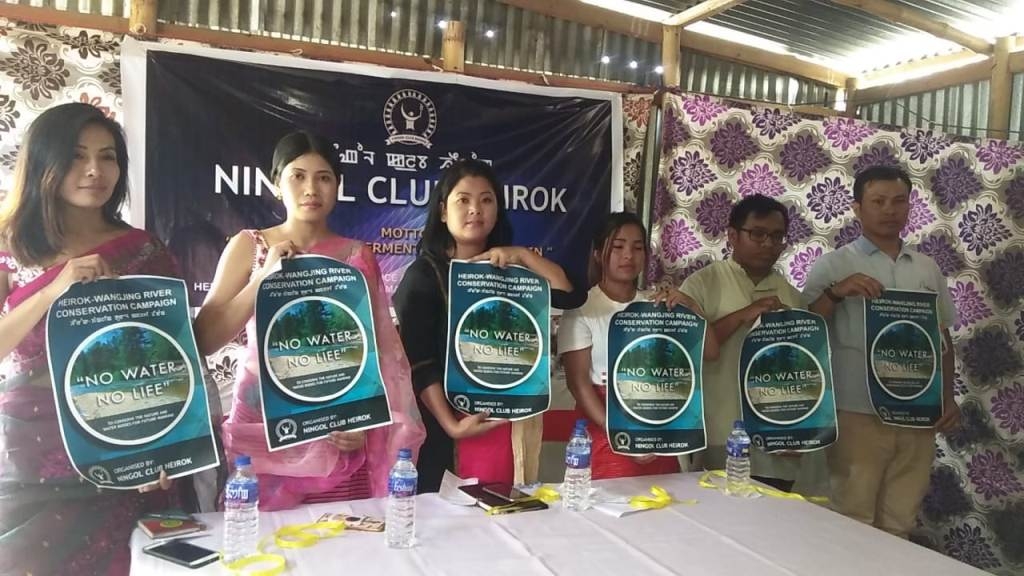 IT News
Imphal, June 3,
With a mission to conserve and protect the Heirok and Wangjing Rivers, Ningol Club Heirok of Thoubal district today launched a poster campaign under the theme 'Protection and conservation of Heirok and Wangjing River.
The launching function of the poster campaign held at Heirok Champra Thong in Thoubal district was attended by Debala Leiphrakpam , Divisional Forest Officer , Khundongbam Sophia, Secretary Ningol Club Heirok, Mayanglangbam Diana, Women Co-ordinator , Human Initiative Manipur , Delhi Unit, Ashakiran International Model, Rabi Takhellambam , President Wild Life & Bio-diversity Conservation Committee (WBCC) and Dipanjit Ningthoujam, Vice President, Coalition Against Drugs and Alcohol (CADA) as dignitaries on the dais.
Applauding the initiative taken up by the one and only women club "Ningol Club Heirok' to conserve and preserve the sanctity of the Rivers, DFO Thoubal Debala Laiphrakpam said that the kind of initiative by the one and only womens' club in the district to protect rivers is the first of its kind.
" Among the most polluted rivers in India 9 rivers are in the state of Manipur and of the nine Heirok and Wangjing River is included as per report of the National Green Tribunal" Debala said adding that the pollution level of the rivers of Manipur are very high that there is a fear of water born epidemic likely to spread.
She said, It is right time that the Ningols of Heirok comes out and take up the initiative to protect and conserve the river.
The DFO also stressed on the need to spread awareness among the people about the consequences that are likely to be faced by the people of the state particularly those residing in the bank of the river. She said that people of the state should know that the cause for the dying of the river is the mass deforestation that has been taking place in the river encasement areas and the high level pollution in the river is the fall out of the people.
" Knowingly or unknowingly, people throw plastic waste and garbage in the river and the river get polluted" Debala said,
She appealed to stop deforestation as well as throwing plastic waste and garbage in the River.