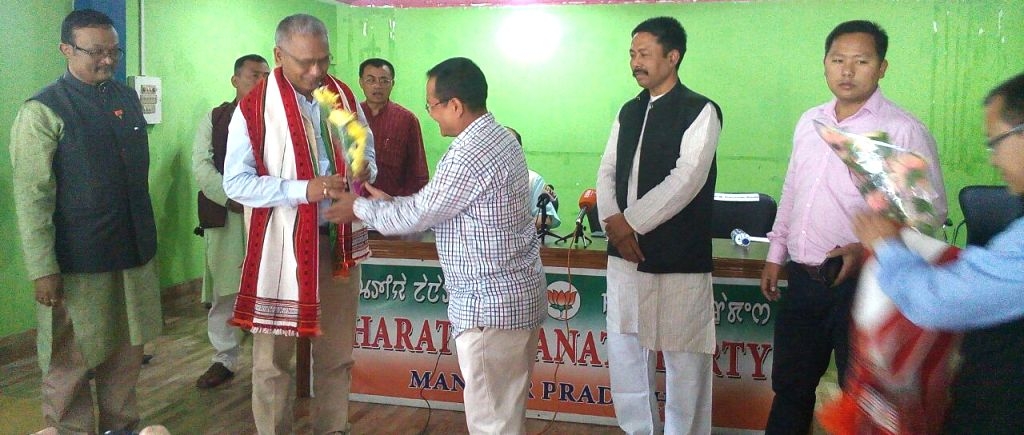 Imphal, May 4: Former President of BJP Manipur Pradesh Th. Chaoba today showed his loyalty to the party's central leadership decision, saying that he welcome the central leadership decision to appoint Ksh. Bhabananda as the new state party leader.
During a reception party of the new President of BJP Manipur Pradesh at its party office at Nityapat Chuthek, Th. Chaoba said that Ksh. Bhabananda was chosen by the central leadership after thorough discussion by the party leadership for around 4 months.
Th. Chaoba said that BJP Manipur Pradesh has now become the only alternative political party for the people of the state. It has 2 MLAs in the Manipur Legislative Assembly and has successfully dominated in local election and Nagar Panchayat election held recently.
He expressed his hope that the new state leader will lead the party to more success in the coming Imphal Municipal Election (IMC) as well as in the upcoming General Assembly Election.
Speaking on the occasion Ksh. Bhabananda appealed the party workers and other leaders to work in team to strengthen the party. The new president of the BJP Manipur President talked tough against the mis-governance saying that the people of the state has now sometimes asked themselves whether they are Indian or not.
"This wrong perception is being implanted to the minds by the misgovernance and corruption of the government, if there is a good governance, 70% of the problem in the state will be solved ", Bhabananda assured.
He appealed the for former leaders and the leaders of the state BJP including the 2 MLAs to extend their helping hand in spreading the popularity of the party.