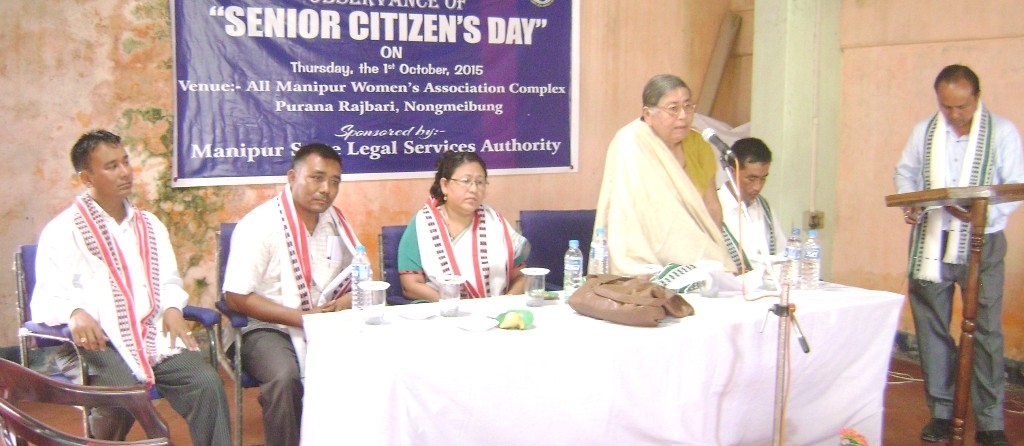 "Manipur State Legal Services Authority is all set to introduce family counseling among newly married couple and in-laws in the state to curve the domestic issues and problems generated mainly between mother-in-laws and daughter-in-laws."
The above statement was made by, A. Noutuneshwari, Chief Judicial Magistrate (CJM) Cum Secretary, District Legal Services Authority, I/E  today morning while interacting with media persons on the sideline of an observance function of "Senior Citizen's Day" which was held at All Manipur Women's Association Complex, here at Purana Rajbari, Nongmeibung. She stressed the importance of counseling as to fill the understanding gap between newly home coming member and elderly in a family.  
 Regarding the legal protection aids to senior citizens, CJM said, the legal service authority is giving effort, the senior citizens to make aware of the schemes under Social Welfare Department and family maintenance facilities under CRPC 125. She said, the authority is always in firm stand to give legal protection free of cost to senior citizens.
Meanwhile, president of All Manipur Women's Association, K. Binodini said like Manipur State Legal Services Authority mark the day as a special one, she urged through media that, children in every home to understand their parents and to give love with care and attention.
It may be mentioned that, the Legal Services Authority observed the day in joining the International Senior Citizen's Day today.
In connection to the program, the Service Authority presented woolen shawls to elderly women gathered.
Advocates Chakpram Bimolchandra, Salam Devananda, Thiyam Rajkeshor, who also graced in the program as presidium members spoke in relation to the observance of the day.