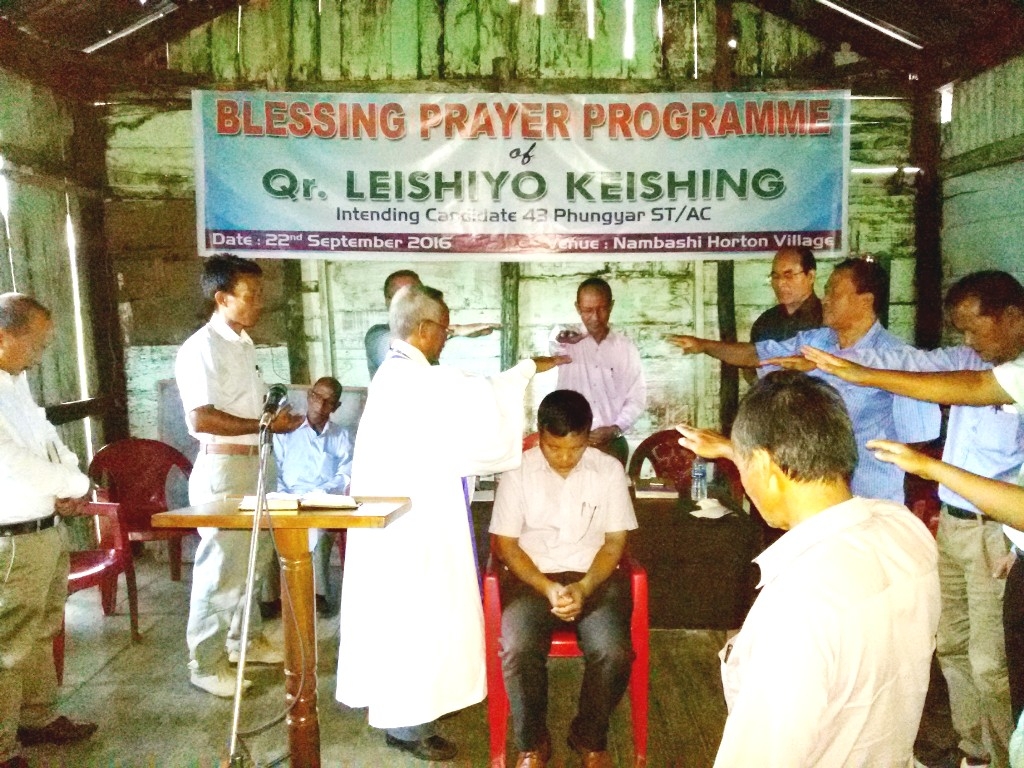 Thoubal, Sept.23: A blessing prayer ceremony for Qr Leishiyo Keishing, an intending candidate for 43-Phungyar Assembly Constituency was held on Thursdad at Nambashi Horton Village community Hall.
Organized by Namabashi Horton Village Authority program committee, the function was attended by Qr Nambshi Horton, village headman MC.Joshua ,N.Horton Village Baptist Church pastor Rev. Nk.Yaorei, Nambashi  Khullen Paisho Keishing, Deacon Mc. Khashim, Village Authority leader
Mc Aring and AWOVA N.K.Honreingam.
Many people of the village and its vicinity attended the blessing prayer ceremony for Qr Leishiyo Keishing who is set to contest the forthcoming 11st Manipur legislative Assembly election to be held in 2017.
Intending candidate Qr Leishiyo Keishing expressed happiness and gratitude to N.Horton village Authority for organizing such event for him.
He assured that he would make out all possible means to bring development in Phungyar Assembly Constituency if the people support  him in the upcoming election.
He appealed to the people to help him so that he can help the people at his best level.
Led by church pastor Rev. Nk. Yaorei, people of the village showered blessings to Qr Leishiyo Keishing for a bright future.