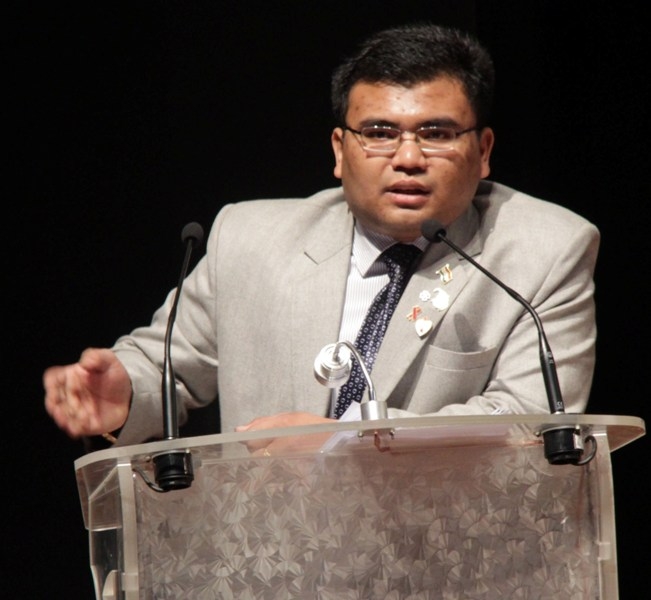 "I am blood donor and I work to provide education, employment and empowerment to the youths for Global Progress and Peace, but my dream was shattered after a news report appeared in a local daily assassinated my career for no reasons related with my activities", this was stated by 24 years old Kanarjit Singh Kangujam who was credited for successful organisation of Global Youth meets, 2014 and World Youth Summit, 2015 here in Imphal, while talking to Imphal Times.
Following the series of allegations, at which Kanarjit said not every report, is true, his nomination for Global Youth Award by a High Level Jury Committee of the IYONS 2015 has been put to hold and will be cancelled if the allegations about duping his achievement cannot be proof.
He was alleged that he never received the   "Dr. BR Ambedkar National Award 2013" and was not a student of MSW. When Imphal Times asked if this was true, the young leader showed a certificate of "Dr. BR Ambedkar National Award 2013" conferred to him by Babu Jagjivan Ram Kala Sanskriti and Sahitya Akademi, New Delhi.
"The award was conferred to me on Junaury 22, 2014 at Ambedkar Bhavan, New Delhi during "VIth Samta Samman Diwas, but as I could not made my physical appearance it was forwarded to me".
Regarding the allegation about duping his MSW studentship, Kanarjit showed his enrollment card No. 141021230 issued by Indira Gandhi National Open University, Regional Center, which showed that he is a student of MSW.
A hard copy of both the IGNOU enrollment card and the certificate is with the Imphal Times.
Regarding the Club 25 International Manipur, Kanarjit clarified that there are over 87 such club under the same name across the globe by sharing only the concept of donating blood 25 times at 25 years of age. But these Club 25 International of different countries are all autonomous organisation, however as the motto is to provoke blood donors and save live they have form a link through communication to support each other , but not in term of financial matters.   It is also learnt that the Club 25 International Manipur headed by Kanarjit is a registered body and is registered under the Manipur Society Registration Act, 1989 (Manipur Act 1 of 1990). Which mean that the club is at the level of any other Non Government organisation existing in the state. As the registration was approved only in the month of December 2013, the organisation run by Kanarjit and his like minded partners have not received any form of financial assistance from any Ministry or state government department.
"Almost all the activities of the Club 25 International are done through donations from the general public and its supporters", Kanarjit said.
"So far more than 1000 units of bloods have been collected from different colleges, Army Unit, Universities, Volunteers, etc. It is for the first time that Manipur can organised such two mega youth event with huge number of foreign delegates which not only reflected to Academic prospect but also to indirectly promote tourism of North –East India", he added.
He further added that organising a global youth meet or world youth summit with foreign dignitaries required a lot of money and for that I use every means to get support from either the government functionaries at individual level and also from other individuals. To the allegations about complaints from the participants, Kanarjit said that it is a global event with about 57 dignitaries from across the world and some will definitely have some complaints and of course the feedback from majority of the people is well and good.
On the series of allegations about duping of young investors in the name of providing contract work, Kanarjit said that he is not a government who can allot work order to special contractor or any other individuals. He did outsource some of the activities like erecting hoardings and printing of Brochures etc to some capable person. But as the event is a matter of prestige for the state of Manipur his organisation compelled those interested to deposit some amount so that they don't escape on midway of the programme.
"Yes I did owes some dues as we do not have sufficient amount of fund but not like the one that a newspaper alleged", Kanarjit said. "We still have due of rupees 17 lakhs to be paid to some persons for various purpose associated with organising the global event as the total cost for organising the event is around 70 lakhs", he added.   On one Sandeep Soubam who had alleged of not clearing his bill, Kanarjit said that he do not have any idea of the person, as for the work of Art Work, Designed & Prints of Global Youth Meet, 2014 was signed by a contractor called Khogen Khoibam. This Khogen Khoibam deposited a sum of Rs. 4,76,000 as security deposit which is refundable. As according to the agreement the contractor agreed to install 45 road hoarding, 3,000 Souvenir, 1500 Brochure and 3000 invitation. But in reality the contractor put up only 22 road hoarding, 1000 brochure, 500 Invitation and 486 Kiosk. The contractor claimed Rs. 13,54,840 and submitted to the organisation on February 27, 2014 and so far Rs. 10,40,000/- has been paid including the refundable deposited amount on installment basis.
Kanarjit further added that there were some dues left to be paid to Classic Hotel, Imphal, for the Global Youth Meet 2014, but he told that it was waived by the Managing Director of the hotel before the World Youth Submit, 2015.
Regarding one Stephanie Beneditti, President of Club 25 International, USA, Kanarjit said that she was invited to attend the Global Youth Meet, organised by the Club 25 International registered under the Manipur Society Registration Act. She is the Director of Club 25 International USA and she has nothing to do with the activities of the Club 25 International Manipur. Both are autonomous body working under their respective countries. Some of the Club 25 International established at other part of the world use to work under International Red cross and Crescent society while some works under various blood donors group of their respective state or country. But it is not necessary that all the Club 25 International have to work under some specific government organisation. It can be also registered at any authorised registration office of their respective country. However, the motto to donate blood 25 times at young age to save live is common for all these organisation which prefer to chose the common name.