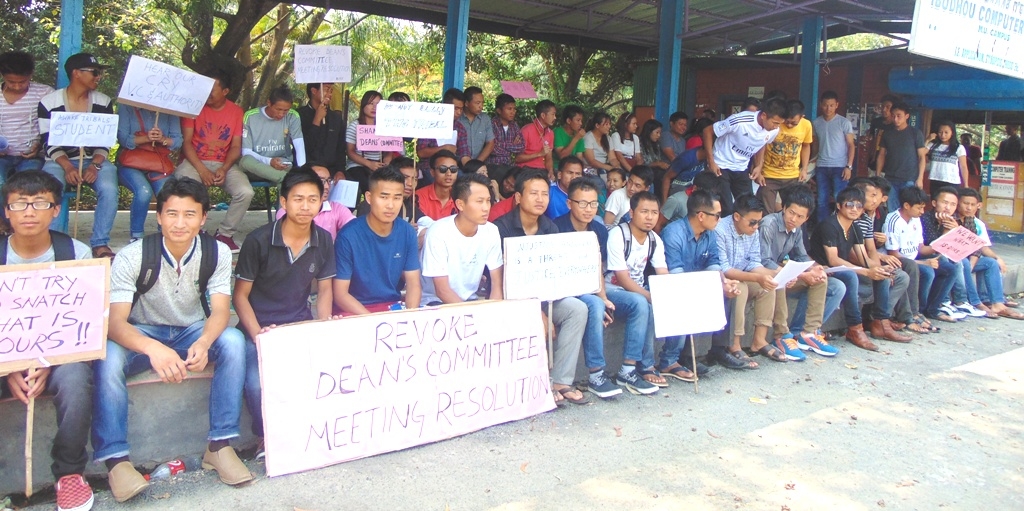 Imphal, April 30: The Manipur University Tribal Students' Union (MUTSU) has demanded to provide 31 percent reservations in admission for Scheduled Tribe candidates in the varsity in accordance with the Central Educational Institutions (Reservation in admission) Amendment Act 2012.
While expressing strong disapproval against the resolution taken by Deans' Committee of Manipur University regarding admission reservation, Bosco Jaiche Kharam, President of MUTSU said that in an attempt to discriminate and marginalize tribal community the Committee headed by University Vice Chancellor took an ultra vires resolution on April 4, 2016 in contravention to the existing Act of the Parliament.
Deliberately the University authority took the resolution in haste to deny the constitutional rights of the tribal community in Manipur, he added.
Demanding to implement the admission reservation norms in accordance to the constitutional provisions and Act, around 300 students have staged a sit-in-protest at Manipur University's Coffee Corner area today.
During the protest demonstration the MUTSU President said that in its ruling on a PIL No 18 of 2014 the High Court of Manipur has given its verdict and directed the Manipur University to admit students in terms of the Act- Central Educational Institutions (Reservations in admission).
He also informed that MUTSU would impose total Manipur University shut down on Tuesday and Wednesday and it would be followed by series of agitations including Manipur bandh and economic blockade from April 4 till the authority of Manipur University materialize their demand to implement the reservation norms.