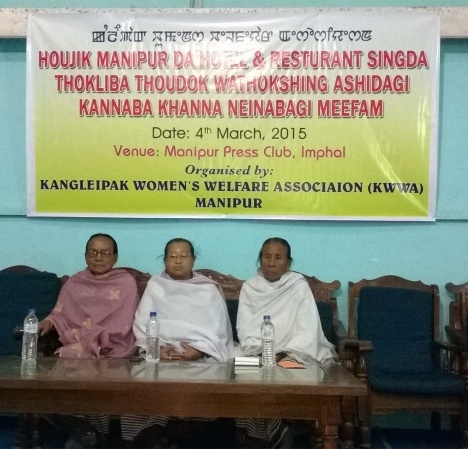 Various social bodies have join hands to launch intensive Hotel/ restaurant drive in the valley areas of the state. It was resolved during a day-long 'Discussion on Hotel/Restaurant Drive" organized by Kangaleipak Women's Welfare Association (KWWA) at Manipur Press club today noon.
Many unwanted incidents were occurred due to the mushrooming of restaurants and hotel. Dark cabin inside restaurant is becoming a place to loot the modesty of innocent women in the state. It needs to be checked, Subhasini Irom, General Secretary of KAWWA said during the discussion.
Protecting younger generations from drug and women from their predators is the duties that lie in front of us.
Seeking public support to protect women's modesty, leaders of civil society organizations – HERICON, Apunba Manipur Kanba Ima Lup and Women Welfare Organisation of Kangleipak- called other social organizations and NGOs to take part in the proposed drive.
AK Memcha Leima, President of KWWA; Ksh Bala, President of WWOK and Y Memma, Vice President of AMKIL presided over the function as presidium member.