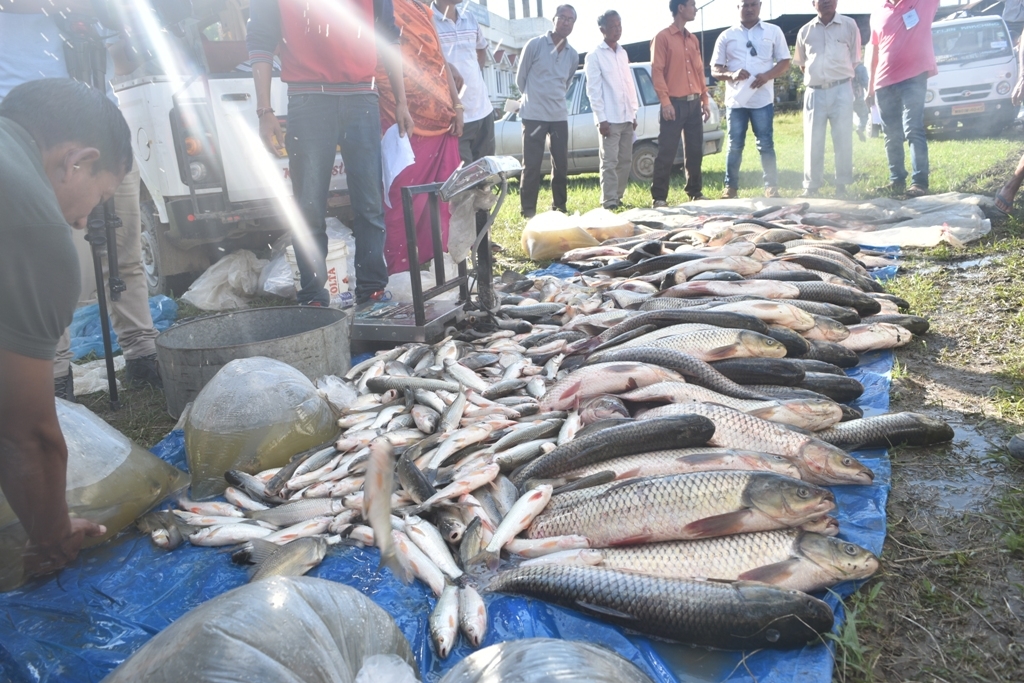 Imphal, Oct 31: To ensure variety of fishes to all families of Manipur particularly to those family in Imphal ahead of the Ningol Chakkouba festival, Directorate of Fisheries, Government of Manipur today organised annual Fish Fair cum Fish Crop Competition 2016 at THAU Ground, Thangmeiband.
Around 85 stalls were allotted by the Fishery Department for the fair cum competition, out of which each stalls are representing offices of District Fishery Officer (DFO), Bishnupur and Thoubal, Imphal East DFO and Ukhrul DFO, Tamenglong, Senapati, Chandel and Churachandpur, respectively.
During the fair, a "Catla" which weighs below 3 kg were sold at Rs 200 while that of 3 kg and above were sold at Rs 250. "Rohu" that weighs below one kg were sold at Rs 200 while those weighing one kg and above were sold at Rs 250. "Pengba/Khabak" which weighs below 300 gm was sold at Rs 600 while that of 300 gm and above were sold at Rs 700 and "Ngaton" were sold at Rs 500.
Moreover, "Common Carp" that weighed below 1 kg were sold at Rs 170 and those over 1 kg were sold at Rs 200, respectively.
However, indigenous fish species such as Khajing and Ngamu were not displayed except for Ngakra (Catfish).
A "Big Head" which weighed more than 10 kg was the largest and heaviest fish in today's fair.
Canned fish which cost Rs 70, packed and manufactured by All Manipur Icthyological Society under the technical guidance of Department of Fisheries, Government of Manipur was also sold in the fair.
Delivering the key-note address, Director (Fisheries) K Saratkumar Singh said that in the last edition of the fair recorded less in fish production while compared to the target for 80'000 kgs but this year the production of the fish have already met the expected quantity of 85'000 kgs and expected to get higher.
Attending the function as President, Agriculture and Fishery Minister, Md Nasir, said that Manipur is a State where people mostly prefer to eat fish and this year the department is able to produce different varieties of fish compare to last year.
The minister also said that fishers in the State need to fulfill their responsibilities to increase fish production, to meet the needs of the people of the state.
With the special attention from the Fishery Department, there has been increase in the rate of fish production, this year, he added.
The fair is being held every year since 1976 as part of the "Ningol Chakouba" festival.