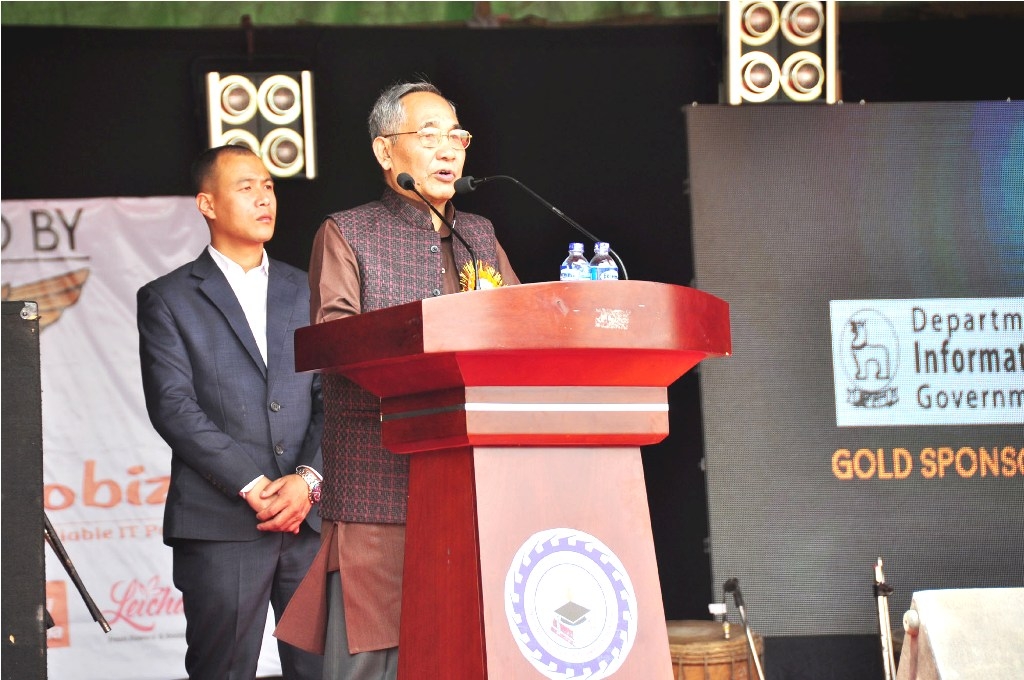 DIPR
Imphal, March 29,
Deputy Chief Minister Yumnam Joykumar Singh has said that a lot of research works should be done to prosper technical education in the country. He was speaking at the inaugural ceremony of OUGRI – 2018 (a multi-faceted talent hunt extravaganza) of National Institute of Technology (NIT), Manipur at its Langol Campus in Imphal today.
Deputy Chief Minister said, our endeavour is to focus on research works both in technical education and pure sciences to generate new ideas and innovations. He said, technologies have been developed after undergoing research in diverse fields. In the country today, research work is lagging behind as we are concentrating more on application of science. Therefore, special attention should be given to study pure sciences and technology research so that more and more innovations can be developed to foster a better living in different aspects of life.
Joykumar Singh further stated that students should expose themselves at every stages of learning. He said, they should not be content with only what they have been taught but try to think on the ideas as well. It will enhance their thinking and eagerness to learn more and more. While lauding the efforts made by the organisers of OUGRI – 2018 to expose students in various fields, Deputy Chief Minister said, it will give a chance to the students to express their skills in various extra-curricular and related activities. It will also give them a chance to know various cultures so that they can be acquainted with it in their future also. The extravaganza will deliver mental and intellectual satisfaction to the students, he added.
Director of NIT, Manipur Dr. S. Birendra Singh said, NITs in the country have been taking a key role in the technology development. Most of the passed outs from IITs- the country's premier technology institutes have been working in multinationals and abroad. But, most of the students who have been passed out from NITs have been engaged in the country and they have been contributing a lot in technology development. He said, NIT, Manipur although established in 2010, it can occupy a higher place in Technology Institutions and NIT Ranking Framework. More facilities and infrastructures will be developed in the coming years. To cater a rounded personality, to nurture cultural skills and to entertain students, OUGRI – 2018 will be an appropriate one, he added.
In the four days mega event of the Institute, a number of competitions and shows will be held.