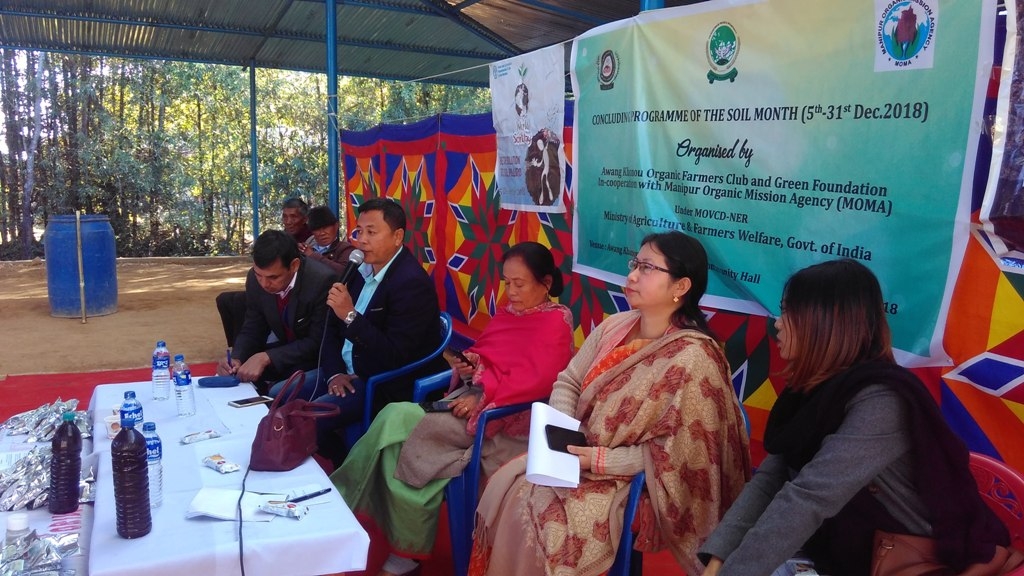 IT News
Imphal, Dec 31,
The month long World Soil Health Day observation held under the aegis of Green Foundation since December 5 onwards comes to an end by holding an awareness programme at the Awangkhunou Maning Leikai community hall in Imphal West district on Monday.
The concluding programme was organised by Awangkhunou Organic Farmers Club and the Green Foundation (GF), an Imphal based social enterprise on sustainable development through peaceful co-existence in cooperation with Manipur Organic Mission Agency under Mission Organic value Chain Development for North Eastern Region of Ministry of Agriculture and Farmers welfare.
Officer in charge Dr DS Yadav of Regional centre of organic farming, Imphal, Zilla Parishad member N Pramo Devi of AwangKhunou village, Chief Executive Officer U Himmat of the GF and village elders attended the concluding session wherein Dr Yadav delivered a lecture on soil microbiology while Dr N Surbala of Central agricultural university shared issues relating to soil health management.
N Gunleibi also presented a talk on organic farming is solution to soil pollution during the awareness function cum closing session of soil health day. Many male and female members of Awangkhunou locality who attended the day's programme also raised many questions relating to the organic farming and its prospects in their village. Some of village elder mostly males also sought necessary scientific inputs from the subject experts and service providers if in case they wanted to convert their fields into completely organic.
Urging the farming community attending the meeting to take up organic farming activities seriously, CEO Himmat of Green Foundation assured the gathering that the organic farming can be taken up in a phase wise manner and farmers can take necessary services through the foundation. Later a demonstration on how to make horticultural waste into organic manure was also held.