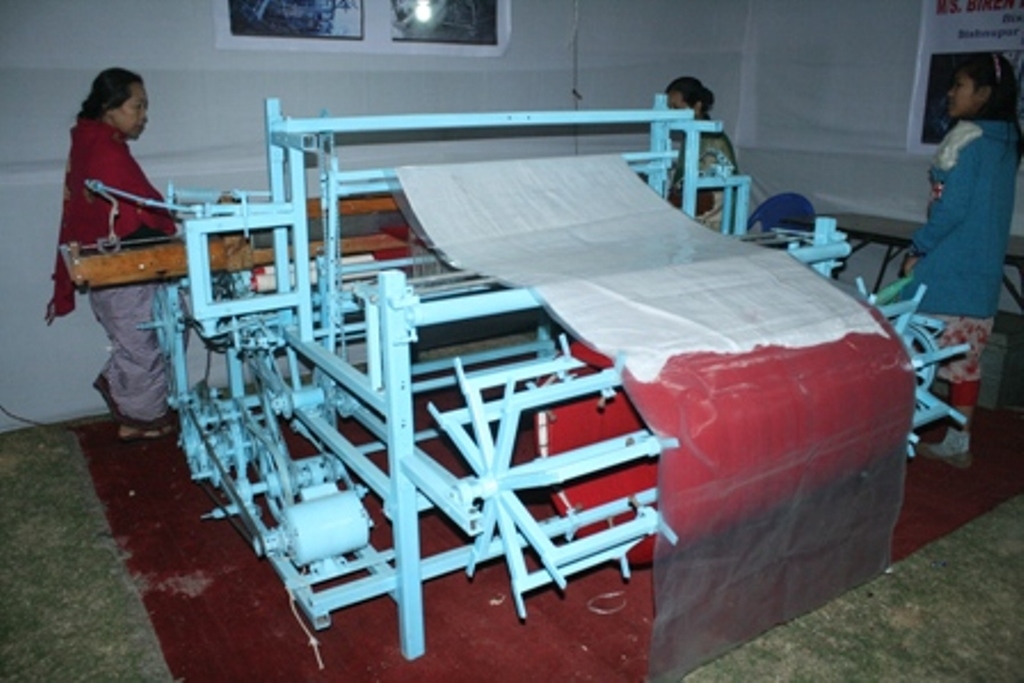 Rabi Takhelambam
Modified electrical Loom newly developed by a Manipuri Craftsman has been able to attract the eyes of several visitors, particularly the professional weavers visiting to witness the ongoing Imphal expo 2014 at Iboyaima Shumang Lila Shanglen, Imphal organized by National Small Industries Corporation Ltd.
The electric operated loom developed by the local innovator Sorokhaibam Biren, 55 years, hailing from Bishnupur Ward No 7 is a boon to the professional weavers still hinging on manually operated traditional looms thereby reducing manpower, time consumption while increasing production.  
A dynamic and prolific innovator Biren developed the first prototype of Modified Power loom for the first time in 1992. In 2004, National Innovative Foundation recognized his innovative device and provided him some funds to improve his innovative device.  His mechanized shuttle looms simulates the working principles of traditional Manipuri shuttle loom (Yongkham), except that the new machine runs fully automatic with the help of a half-horse power motor.
Innovation of such a modified power loom by Biren is of enormous advantage for the Manipuri weavers, hinging on traditional looms for production. The output of the device is 25 to 50 times more than the traditional shuttle loom, and almost any other power loom. The innovative machine can weave 3 to 4 fabric per hour whereas the traditional one could hardly make 1-2 fabric in a day. Except for the change of bobbin, the machine doesn't require any manpower. The device which consumes around 350 electric watts can work for at least 15 hours with a 24 volt battery.
Recalling how he was motivated to innovate such loom, he said that once he along with some of his friends  hanged out to Mondum Mahadeva to offer prayer. When reached Chingmei in Moirangkhunou area, they had to spend the night there in a thatched house as they had no means to return home when his cycle tyre got punctured while the other cycle of his friend got fractured in the frame.  Seeing of an old woman of the house weaving cloth burning the midnight oil on traditional loom to maintain her family motivated him on how to innovate a loom operated by electric power sans manpower.
Biren is now hectic on making many modified power looms at a workshed set up at his own residence located at Bishnupur Ward No 7 under the brand Stephia Mini Powerloom. He named his innovative device after his late daughter Stephia  who died accidentally. Since he alone cannot manage the work, he has engaged at least six men of his locality on monthly remuneration basis. He gave the local youths on how to make power loom. Now, the workers are well expert.  It takes almost 20 days to complete a modified power loom, said he.
With numbers of professional weavers increasing gradually, I have got many clients who demand for supply of the power loom. The only thing is that I cannot meet the increasing demand.  I have sold 14 pieces of modified power looms which cost Rs 1 lakh to 1.50 lakhs a piece. The cost varies according to the design and technology of the loom. With the demand for this loom increasing, I am hectic on my work to give a finishing touch to another  ten looms by engaging six skilled workers. It has been a thriving business for me as it gives me a good turnover, he said.
Biren developed the electric operated power loom by modifying the manual handloom while incorporating a half HP single-phase motor to give a fresh hopes to the handloom Industry sector of the state. This new device has a provision to regulate shuttle speeds depending on the type of cloth being woven and facilitated speedy production without much taking time and manpower. Compared to other commercial power looms, his innovative device is of affordable cost and less manpower requirements as compared to the traditional loom.