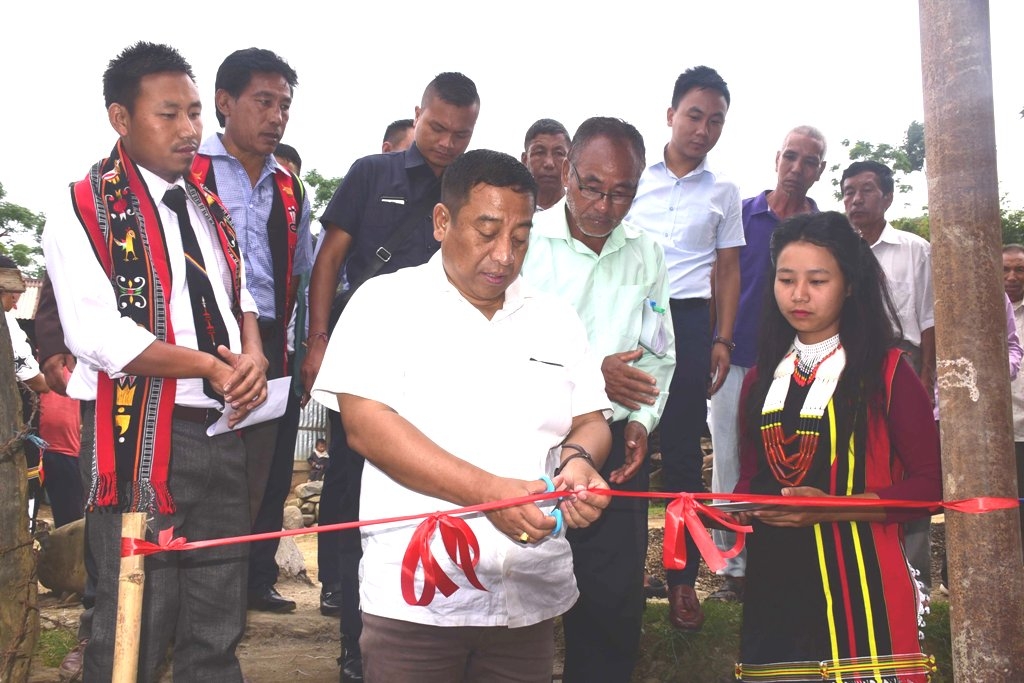 DIPR
Imphal, June, 18,
 Horticulture and Soil Conservation Minister Thounaojam Shyamkumar inaugurated a rural market shed constructed under the Mission for Integrated Development of Horticulture (MIDH) scheme under the aegis of Horticulture and Soil Conservation Department at Biisho Koide village, Senapati district on Monday. The rural market shed is constructed with the cost of Rs 13.75 lakhs.
Speaking as the chief guest of the function, Minister Th. Shyamkumar appealed to the people of the village to support in the environment conservation. He assured that within a short period of time, a plantation drive will be taken up with the consultation with the Divisional Forest Officer (DFO) of the area for beautification of the area as well to conserve the environment. He called upon the people of Koide, Purul and the surrounding areas to come forward and participate in the plantation drive.
Regarding the memorandum submitted by the villagers of Biisho Koide, Minister Shyamkumar assured for construction of a football playground and public urinal in short period of time. Speaking about the demand of the villagers to construct community hall, he said the matter will be appraised to the Chief Minister and the concerned minister.
Th. Shyamkumar further hoped that the rural market shed will help in increasing the income of the people of the area. Later, he inspected the Forest Beat office at Maram Centre, where he addressed to the grievances of the department officials. On the way to Imphal, he also inspected the Forest Beat Office at Kanglatongbi.
Minister Shyamkumar today also inspected the ongoing projects constructed under the central funding in the Andro Assembly Constituency, Imphal East. He inspected the under-constructed additional school buildings of the Kasturba Gandhi Balika Vidyalaya, the construction work at the Panam Ningthou Garden under the NEC funding and 'Heikol' – fruit orchard cum home stay at Huikap, the fruit trees at the orchard were planted in the year 2007.