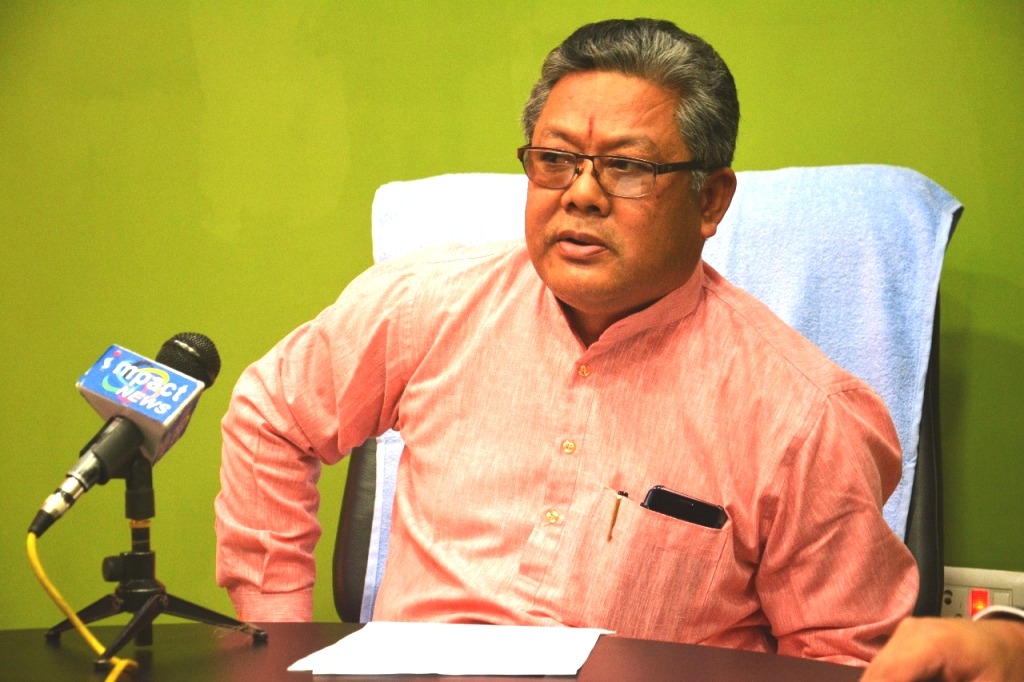 DIPR
Imphal, April 10,
A press conference was held today at the office chamber of  Minister,CAF & PD, Revenue, Karam Shyam at Old Secretariat today in connection with Manipur total shut down/strike called by the All Manipur Muslim Organisation Co-ordinating Committee from 6 am today till 6 pm  tomorrow and the State Government's stand on it.
The Government seeks co-operation of the public to support their ongoing activities relating to the implementation of the Manipur Conservation of Paddyland & Wetland Act 2014 and steps relating to revenue matter are strictly according to the laws and has no intention for inciting communalism or violence, Minister Karam Shyam assured.
As per Government reports, around 75 houses of about 350-400 villagers were built at the Kobithabi Nongmaijing Ching reserved forests area. Under the DFO, Central Forest Division of Manipur Forest Rule, 1971, a show cause notice was served on 1st March,2018  to the encroachers to give clarification on the above construction within 14 March 2018,RevenueMinisterShri Karam Shyam stated.
On finding out that except Saajal Academy Group, none of the encroachers has served the notice, an eviction order was issued to them on 17 March, 2018 mentioning that the illegal encroachers should vacate the reserved forests area within 24 March 2018, he said.
Briefing that the State has proposal for constructing a quarter/compact area(residential) for Ministers,MLA & other officials as direct purchase under the Manipur Conservation of Paddyland & Wetland Act 2014, he said that the said area comprises fields and paddyland of around 53 acres belonging to Meitei-Kairang,Chingmeirong-Nongpok & Kontha- Ahallup villages  occupied by different communities.
MinisterShyam clarified that the Government is taking up the policies and programmes in public interest and has no bias against any religious community specially the Muslim community who felt they are victimised with respect to the Government's construction plan in the Kontha Ahallup that is presently occupied by different communities.
Talking to media, he strongly appealed the public that the Government strictly abides by the laws & Acts of the land and has no intention to create communalism or differences amongst different religious groups regarding revenue matter.
Drawing attention to the current bandh called by the All Manipur Muslim Organisation Co-ordinating Committee, he appealed to those concerned to call off the strike in public interest and not resort to anything that will affect the integrity of the State.
Secretary Revenue , T Ranjit; DC Imphal East Th Chitra; Deputy Secretary Revenue, Y Rajen & other concerned revenue officials attended the press meet.