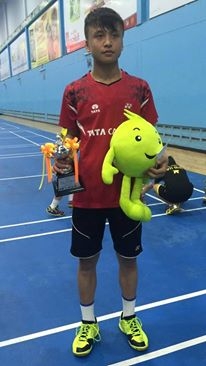 Imphal, April 10: Maisnam Meiraba Luwang once again bag the Champion of U-15 Boys single of the Yonex-BTY Open-International Badminton Championships-2016 held at Bangkok from 6-10 April.
Meiraba started playing Under 15 Boys Single from qualifying matches where in 1st Round – Meiraba defeated Paramee Chonsawant of Thailand by 21/8, 21/4 and in 2nd Round defeated Pichaya Wongnarin of Thailand by 21/7, 21/6 point.
At 1st Round of the main event match Mairaba defeated A-Nuyut Chaiwong of Thailand by 21/11, 21/14, in the 2nd Round, He defeated, Yi Yang Gao of Wuhan ,China by  21/13, 21/14 and in 3rd round, He defeated Muhmmad Nandi Novantino of Indonesia no 2 by 21/13, 21/18 points.
In pre- quarter match Meiraba defeated Warot U-Raiwong of Thailand no- by 21/10, 21/13 points.
In quarter final – Meiraba defeated Puurithat A-Ree of Thailand no-5 by 21/12.21/18 points.
In Semi Final- Meiraba defeated Worrapop Chuenka of Thailand no 2 and in the final match Meiraba defeated W Hafidz Dzakwan Putra of Indonesia no-1 by 21/13:21/8 points.
The tournament was organised by The Badminton Association of Thailand, Under the Royal Patronage (Special-Invitation tournament).
1564 badminton players from 11 Country of Asia participated.