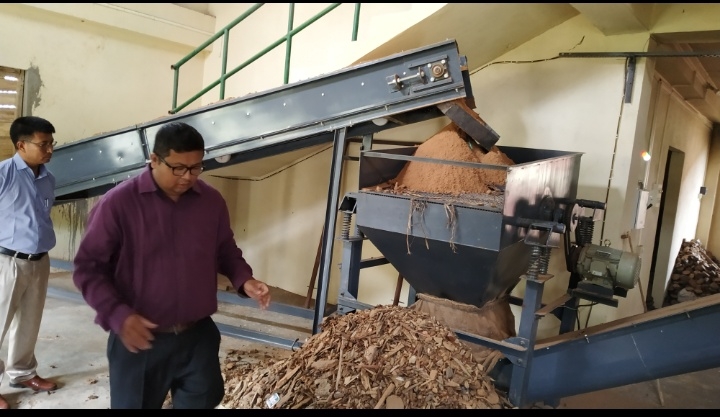 IT News
Imphal, June 22,
A one day media sensitization program was held on the theme- Sustainable Fuel: Challenges & Solutions in Manipur by Synergy Engineering and Environmental Solution at its Kuraopokpi plant at Kakching.
More than 30 lakhs worth firewood is consumed in Manipur alone on a daily basis. All the bricks manufacturing unit (Bricks Fields), Hostels, Hotels and maximum numbers of the households especially from the rural area solely rely on firewood as the primary fuel for domestic as well as professional purposes. More dependence on firewood means more dependence on the forests for firewood and charcoal which eventually result to large scale deforestation. In the last few years, we have started bearing the brunt of deforestation in the form of repeated flash flood and recent soar in temperature. 
Despite the wake up calls from various environmental experts, activists and NGOs, resolving deforestation or finding a sustainable fuel solution in Manipur is still a far cry. Besides the environmental brunt, it's also been noted that Indoor Air Pollution i.e. emission of smoke from firewood or charcoal due to bad combustion provides a severe brunt especially on the health of women and children. 
Synergy Engineering & Environmental Solutions, as a social enterprise for profit, ventures on providing sustainable fuel solutions to the masses from rural as well as urban area. At present, Synergy has its briquette manufacturing plant located at Kuraopokpi Industrial Area, Kakching. These briquettes are made from agriculture waste, wood waste and forest wastes etc… and provide dual benefits i.e. transform waste to wealth and provide a better and sustainable option (as fuel) for domestic as well as professional purposes. 
Our project is supported by Government of Manipur through its Start Up Scheme, funded by bank of Baroda. Synergy currently generates direct and indirect employment for more than 40 employees at its plant and it targets to generate 400 more employment in the near future. Synergy's venture is still at its baby stage. 
"With proper support from the Government and various stakeholders, we can collectively address the issue of deforestation and eventually provide a super quality and sustainable fuel solution to the masses in the form of briquettes or pellets which are manufacture out of agriculture waste, wood waste and forest wastes etc…", adds Bidhan Chandra Loitongbam, Managing Director Synergy Engineering & Environmental Solutions.