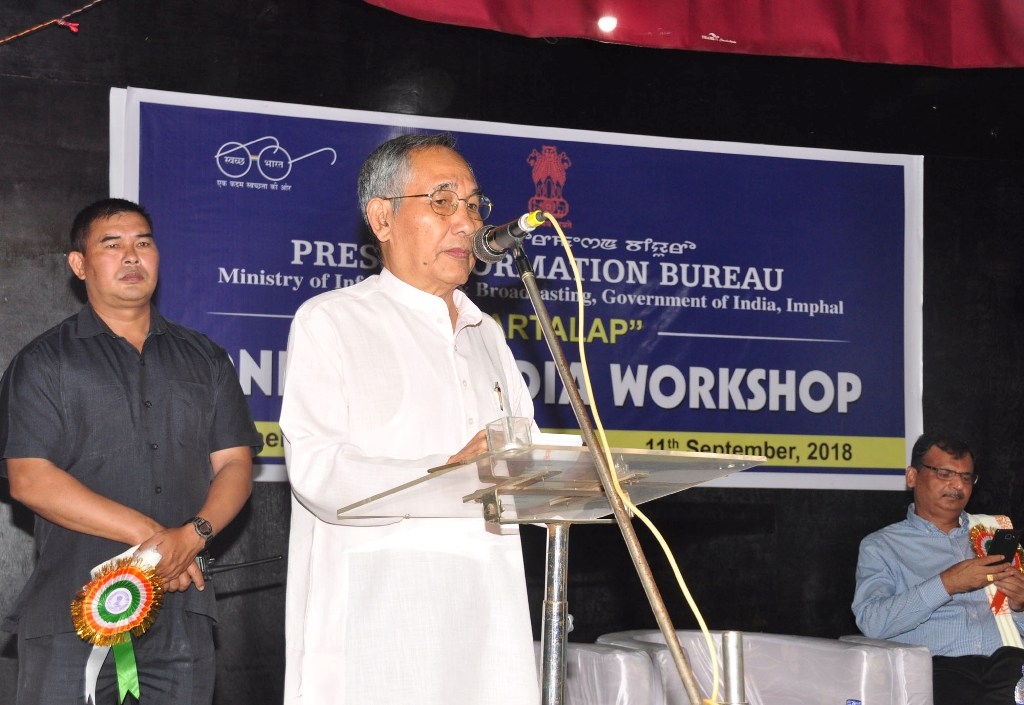 Imphal, Sept 11,
Deputy Chief Minister Yumnam Joykumar Singh has reiterated that media can play an important role in successful implementation of various developmental schemes in the state. He was speaking at the inaugural session of "VARTALAP"- One day Media Workshop at Regional Outreach Bureau (ROB), Ministry of Information & Broadcasting, Government of India at WangkheiYonglanLeirak in Imphal East today.
Speaking at the session, Deputy Chief Minister said, most of the developmental schemes including flagship schemes have not been able to implement successfully because of the fact that there has been a gap of information to the people. He said, information about the schemes have to be disbursed through various media so that people can understand it. Without knowing it, people cannot avail the benefit of the schemes. Stating that information in today's world is power, Shri Joykumar Singh said, information which are helpful to the people can only be disseminated by the media outlets rather than sharing or disseminating provocations or maligning image of individuals or public leaders. This will lead to disturb social tranquillity and peace.
On social media, Deputy Chief Minister said, with the development of internet and advent of social media, information world has been transformed and a paradigm shift in terms of information flow and dissemination has been observed. He said, it has many useful obligations if we use it cautiously. But, there has been a trend of disseminating fake news or wrong information which gone viral through social media leading to disturbance in normalcy. It is a matter of serious consequences and therefore one has to be very careful while using social media. No one can wrongfully enjoy freedom of speech and expression at any media, at any time. Government is serious on the matter and keeping a close vigil on it and if required timely intervention has to be done to check it, he added.
Joykumar Singh also exuded confidence that such workshop will be helpful in sensitizing newsmen about their roles in disseminating information to the people and overall in nation building.  Additional DG, PIB, Imphal, Shri S.K. Malviya also spoke on the session. He said, media can play a role of catalyst in sharing information about the various initiatives taken up by the Government for the welfare of people. It is in this direction that such workshop will work and it will be helpful in sensitizing media in the state.
Representatives from various print and electronic media organisations participated in the workshop which mainly focussed on Digital India, Doubling of farmers' income by 2020 and Health for all/Ayushman Bharat. The workshop was organised by Press Information Bureau (PIB), Imphal.