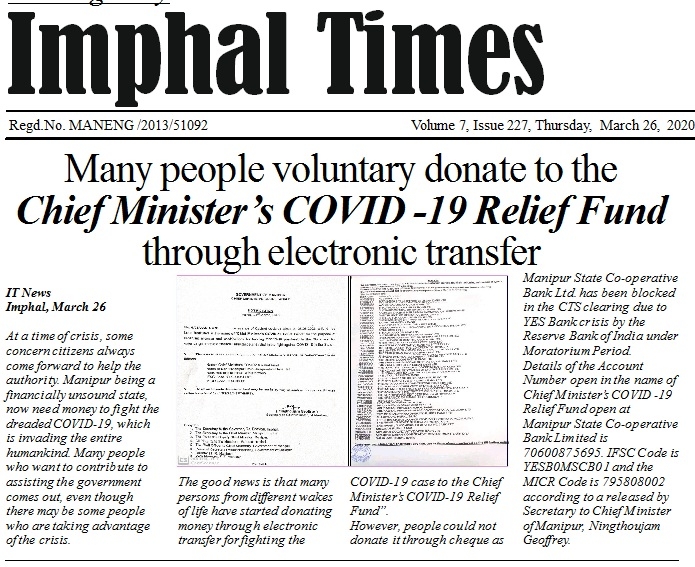 IT News
Imphal, March 26
At a time of crisis, some concern citizens always come forward to help the authority. Manipur being a financially unsound state, now need money to fight the dreaded COVID-19, which is invading the entire humankind. Many people who want to contribute to assisting the government comes out, even though there may be some people who are taking advantage of the crisis.
The good news is that many persons from different walks of life have started donating money through electronic transfer for fighting the COVID-19 case to the Chief Minister's COVID-19 Relief Fund".
However, people could not donate it through cheque as Manipur State Co-operative Bank Ltd. has been blocked in the CTS clearing due to the YES Bank crisis by the Reserve Bank of India under Moratorium Period.  That was a first hand report. But as per a reply by the Managing Director of The Manipur State Co-operative Bank Ltd. Donation can be done through cheque also. RBI moratorium already lifted w.e.f. 19th March
Details of the Account Number open in the name of Chief Minister's COVID -19 Relief Fund open at Manipur State Co-operative Bank Limited is 70600875695. IFSC Code is YESB0MSCB01 and the MICR Code is 795808002 according to a released by Secretary to Chief Minister of Manipur, Ningthoujam Geoffrey.