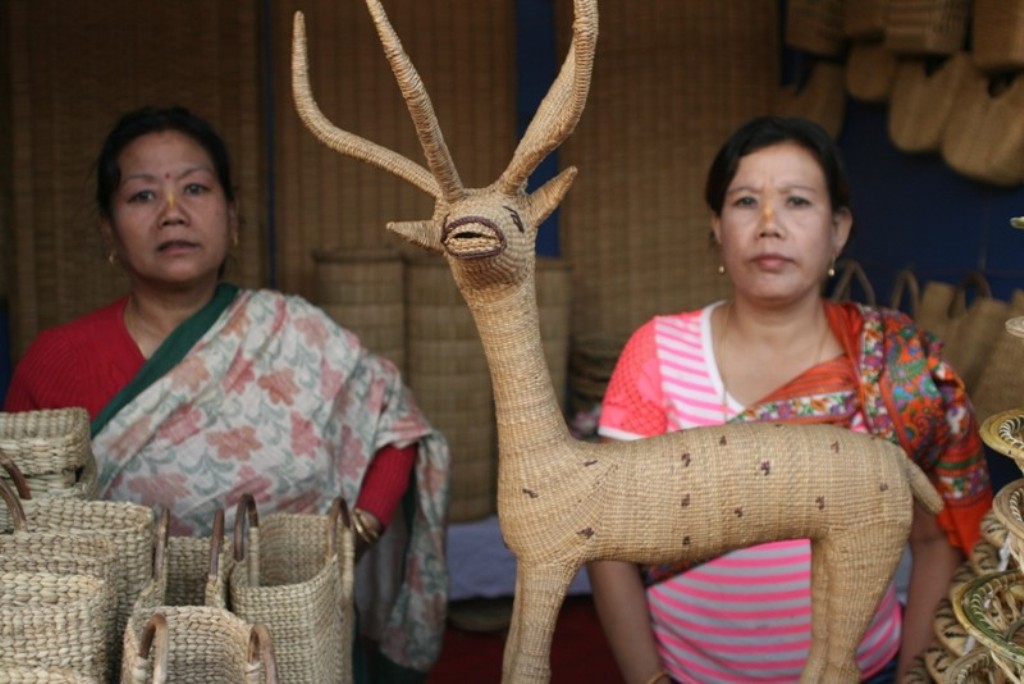 Handicrafts of Manipur have a unique place among the various crafts of the country due to having its own aesthetic and artistic value. Among the crafts, Kouna (Scripus lecustris) craft is most widespread throughout the State because of availability of abundant raw materials and demands from both domestic as well as International buyers. This particular craft has the potential for large scale plantation, production and marketing. Cities like New Delhi and Mumbai and foreign countries, like, UK, Netherlands,Germany, France, UAE and Switzerland are major buyers.
Angom Ongbi Kamala Devi, 47 years wife of Angom Dilip from Kongba Nandeibam Leikai is a success kouna craftsperson who had won state award for master craftsperson 2012 conferred by state commerce and
Industries department for her Kouna craft " Phingarook". She along with her sister Oinam Chandani Devi, 40 years wife of Oinam Surendro of Tera Sapam Leirak are showcasing the various products of kouna craft
under the banner "Yaiphabi development Association" at the ongoing Manipur Sangai festival 2015 at Hapta Kangjeibung at stall no. 59.
Various kouna made items on display include Lady's bag, Lukmai, Mat, cushion, Flower Basket, Mattress, Lady's purse, Jewellery box, Mora (tool). One of the attractive items on display at the stall is Sangai, the blow antlered deer, artistically designed with Kouna.
Kamala said that she had trained more than 20 people in the craft and is now providing employment to at least 10 persons of her locality.
Among the kouna craft items, she receives high demand for Mat, a much needed domestic item in every household of Manipur. She had popularized the artistic skill of Manipur in kouna craft in various craft exhibitions held at Kolkata, Mumbai, Assam, Delhi, Bangalore etc.
"Kouna craft has been a thriving businss for me as I can earn more than 10,000 per month. Kouna which is a main raw material for making various craft items is mainly procured from Nongpok Sekmai," she said.