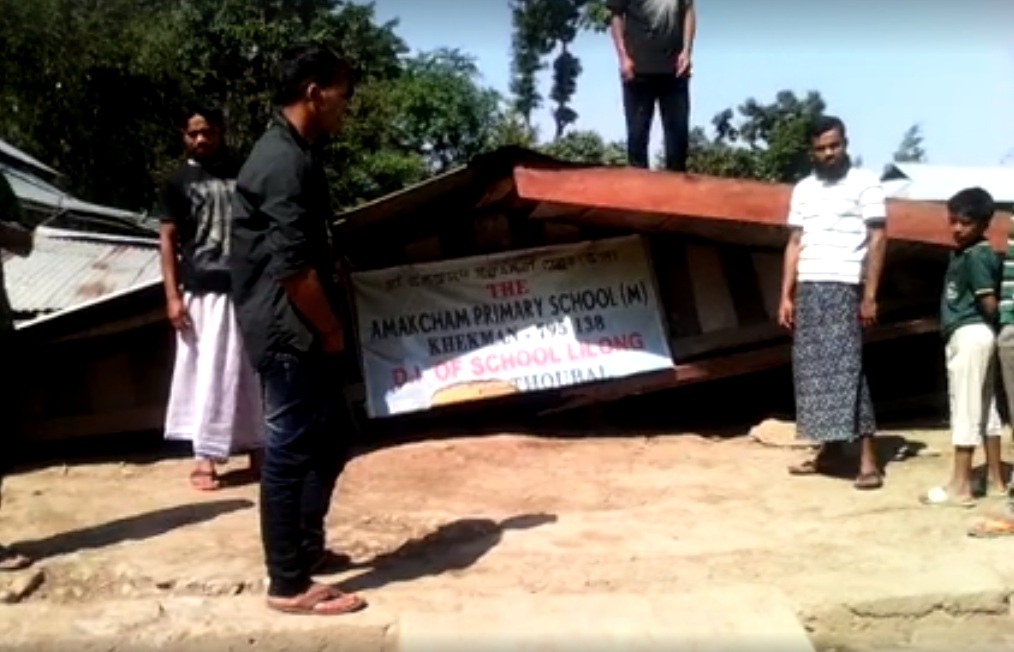 Imphal, April 14: Just as the state is fighting to recover from the recent deadly natural calamities of flood, landslides and tremor, another earthquake hit Manipur on 13 April.
The earthquake with epicenter at Sagaing of Myanmar, around 62 miles north-west of the city of Monywa at a depth of 135 Km with a magnitude of 7 on the Richter scale struck at around 7.25 in the evening (according to the US Geological Survey).
The intense tremor rocked the whole North East states of India including West Bengal, Bihar and most parts of South East Asia. It may be mentioned that Manipur has been struggling to recover from the recent tremor measuring 6.8 magnitude on the Richter scale on the early morning of January 4 this year which vastly affected the lives of people from every sphere instilling a fear psychosis even among small children.
"I was completely frightened and felt like I was going to die" said Nongmaithem Priyadarshini, an 8 year old little girl of Kakching Paji Leikai while interacting with this reporter regarding her horrifying experience during the jolt which lasted more than a minute. She further disclosed that she will start planting flowers and big- big trees at her home and near-by hills from tomorrrow onwards as she heard that mother nature is angry with humans for incessantly chopping down trees.
While her little brother complained of panic and uneasiness in his abdomen, Priyadarshini asked her Nene (Auntie) to hold him due to the shock caused by the quake, narrated the little girl.
Most of the youths in the valley area of the state were getting ready to enjoy Thabalchongba (Manipuri traditional dance) organised at various locals in connection with Sajibu Cheiraoba ( Manipuri New Year festival) when the intense tremor shook the state for the second time this year raising fear for the return of the much talked about high intensity Earthquake. Meanwhile, according to reports from various sources, at least nine people sustained injuries and many homes and buildings sustained varying degrees of damage during the quake in the valley while there are reports of a few houses being damaged at Kangpokpi and Songpijang village 5 km North of Kangpokpi.