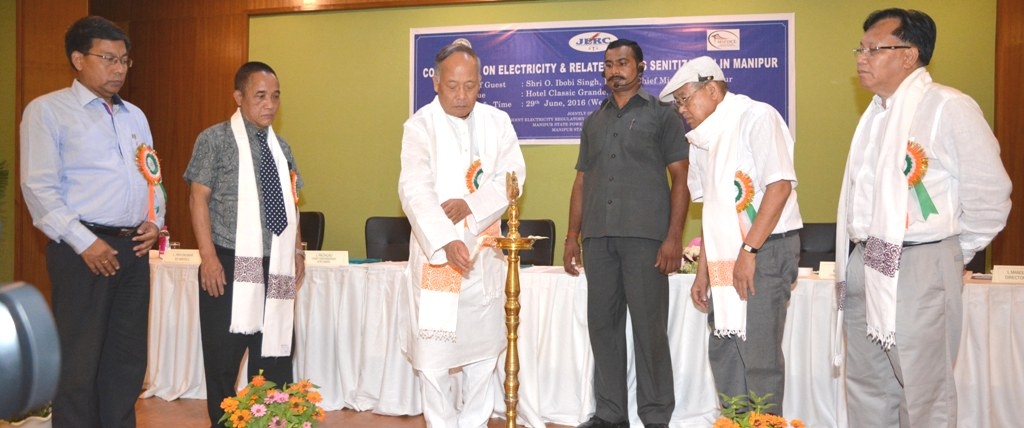 Imphal, June 29:  Even as the corporatization of the state power department in 2014 has brought tremendous changes in the supply of power to the people of the state, Manipur still requires 350 Mega Unit energy annually to ensure 24×7 power supply in Imphal and other district head quarters of the state.
"To ensure 24×7 Power supply to Imphal and other District Head Quarters around 1350 MU of annual energy may be required, whereas present power allocation from Central Power Sector Unit's (CPSU's)  is about 1000 MU", said Chief Minister Okram Ibobi, who is also in charge of Power department during a one day conference on Electricity and Related issues sensitization in Manipur co-organized by the Joint Electricity Regulatory Commission (JERC) for Manipur and Mizoram, Manipur State Power Company Ltd (MSPCL) and Manipur State Power Distribution Company Ltd (MSPDCL) at Dynasty Hall, Classic Grande Imphal. 
Manipur faced the worst power scenario in post 2014, but after the state Power Department was corporatized and divided into MSPCL and MSPDCL, power crises in the state has been tremendously improved.
Speaking at the occasion Chief Minister Okram Ibobi Singh said that revenue collection was increase to Rs. 11 (eleven) crores in 2015-16 while it was only Rs 4 (four) crores in 2013-14.
The success in the revenue collection is due to the streamlining of the MSPDCL and also the installation of the Pre-paid meter system.
"Approximately 2.2 lakh prepaid meters have been installed against target of 3.5 lakhs to streamline the power distribution system and check unauthorized consumers", said Okram Ibobi Singh.
Manipur has achieved 87.5% village electrification out of 2582 villages, in pursuance of the goal of 100 % electrification of all villages by 2018 and access to all household by 2019, he added.
Re-iterating the goal of providing 24X7 power for all in the state by 2019, Mr. Ibobi informed that by 2021-2022, additional capacity of 945 MVA in 400 KV, 425 MVA in 132 KV and 749.5 MVA in 33 KV system respectively are being added totaling the transformation capacity to 945 MVA, 942 MVA and 1273.6 MVA in 400 KV, 132 KV and 33 KV levels respectively enough to cater the requirement for about 20 years or so.
The commissioning of the ATS 400 KV D/C line from Silchar to Imphal charged at 132 KV on 15th March, 2015 created a new era for the state by enhancing the Inter State transmission capacity, he stated, adding that for reliability of supply, on the insistence of state government the 5th Standing Committee on Power System Planning of North Eastern Region had agreed to extend 400 KV line from Imphal to Misa via New Kohima and New Mariani forming a 400 KV ring loop of Imphal – New Kohima – New Mariani – Misa – Balipura – Bongaigaon – Azara – Byrnihat – Silchar – Imphal benefiting all the north eastern states.
The Chief Minister also said that the state had achieved commendable progress in renewable energy power sector. MANIREDA has accomplished implementation of altogether 4.2 MW off-grid renewable energy systems through solar, wind, hydro, biomass and hybrid projects. Roof top solar power plant will play an important role in achieving State Renewable Purchase Obligation (RPO) target of 8% of total energy requirement from solar sector by 2022.
In his welcome address, Mr. RK Kishore Singh, Chairperson of Joint Electricity Regulatory Commission (JERC) for Manipur and Mizoram urged for speedy framing and implementation of the State Solar Policy to meet the energy requirements of Manipur.