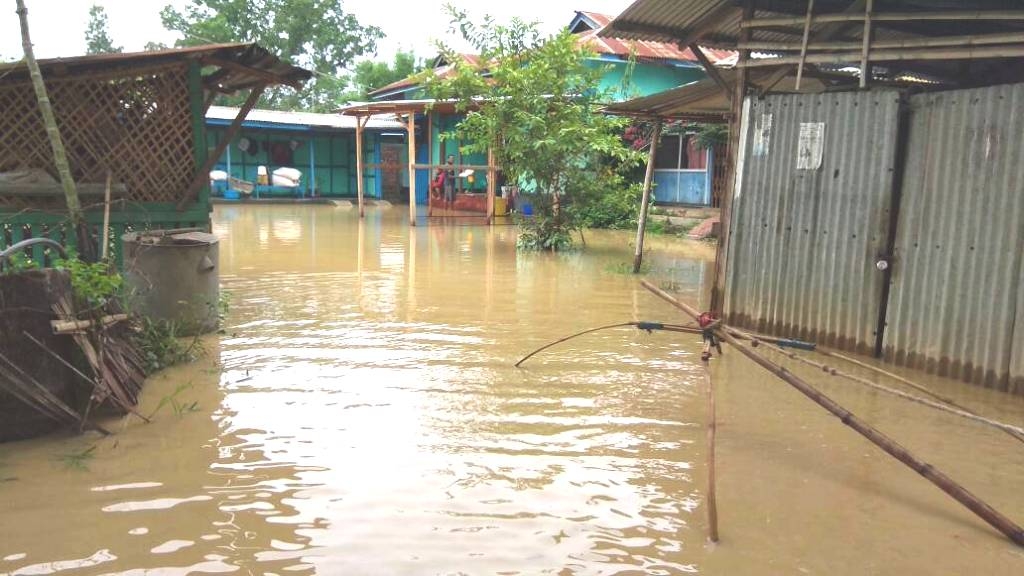 Imphal, June 1: Life in Manipur has been badly affected since the last couple of days as heavy rains continued to lash the state.
The flood-like situation in many parts of the state has caused a serious situation. Both the hills and valley have been badly affected by incessant rains over the past three-four days.  
All major rivers reached the danger level. With the Imphal river flowing above the danger level, it could trigger flood any time, official sources said. Spillover left over by incessant rains and river and lake breaches have inundated several residential areas and major arterial roads across the state, reports said.
A few states in Northeast including Manipur are now almost submerged due to continuous heavy rains.  
In the meantime, Irrigation and Flood Control Department Minister Letpao Haokip accompanied by many officials visited vulnerable areas to take stock of the situation.
The officials of the department along with volunteers of local clubs took up flood prevention measures.  Bamboo mats, cement bags and bamboo were distributed in the areas.
Heavy rains also left many parts of Thoubal district a flood-like situation.  Low lying areas of other districts like Chandel, Noney and Tamenglong are now submerged due to strong winds accompanied by heavy showers, reports said.
Several houses and trees were also destroyed by the strong winds and heavy rains in Temenglong.   Heavy rains have caused power cuts for five days in Noney district.
The cyclonic storm Mora reached Northeast on May 30. The storm reached neighbouring Mizoram on Tuesday after it battered Bangladesh's Chittagong killing six persons.
Due to the cyclonic storm, many parts of Manipur, Nagaland, Tripura, Mizoram, Meghalaya and Arunachal Pradesh have been receiving heavy to very heavy rainfall.
At least 80 houses were damaged in Mizoram's Saihah district after heavy rains and strong winds hit state.
The rains have caused disruptions in power and telecommunication across Mizoram. But human casualties were not reported.