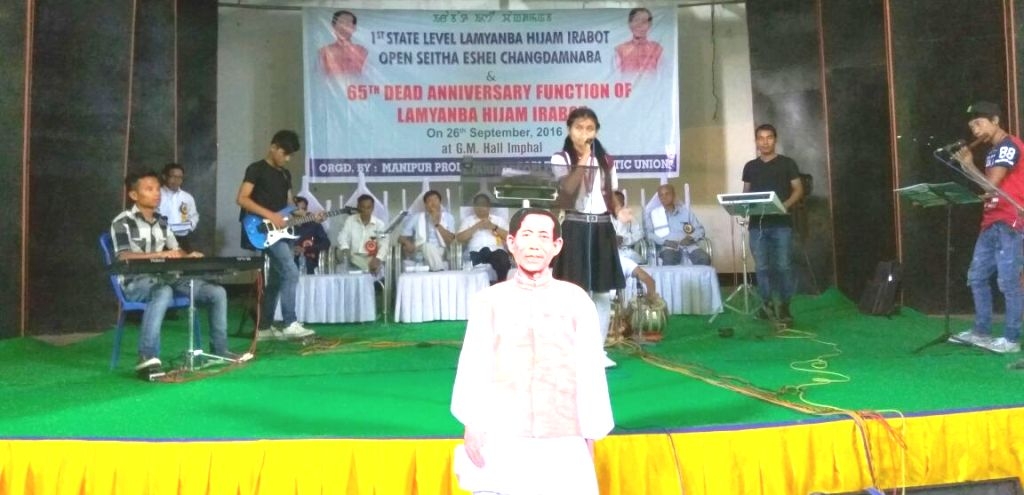 Imphal, Sept 26: Manipur Proletariats People's Democratic Union (MPPDU) today observed the 65th Death Anniversary of Lamyanba Hijam Irabot at GM Hall, here in Imphal today. A state level open song competition in memory of Lamyanba Hijam Irabot was also held on the ocassion.
Chief Guest of the function Dr. I. Ibohalbi Singh while speaking on the occasion recalled on how the pioneer leader had given up the life of luxury for the cause of the working class people of the state. Ibohalbi said that Irabot was the real hero and leader of the state. He appealed the people to pay the highest respect to the pioneer leader.
On the other hand Ibohalbi denounced the use of Irabot's name by some political parties for mere political gain. He said Irabot stand for the people of the state and he should be for all the people of the state irrespective of differences in political parties or organizations. He appealed the people of the state to follow the path of the Pioneer leader to restore peace in the region.
The observance function was also attended by MLA RK Anand Singh, A Bhagarrot Singh, Principal, District College of Music, Art and Culture Keinou, K. Ibotombi Singh, Lecturer, DCOMAC Keinou, Sh Nabakumar Sharma, Principal, Kha Manipur Kakching Music Collage, S. Indubhosan Meitei, Social Scientist as dignitaries. The day is also observed by Lamyanba Hijam Irabot Celebration Committee under the supervision of Hijam Irabot Memorial Charitable Trust at Lamyanba Hijam Irabot 2016 at Pishum Oinam Leikai statue complex today.