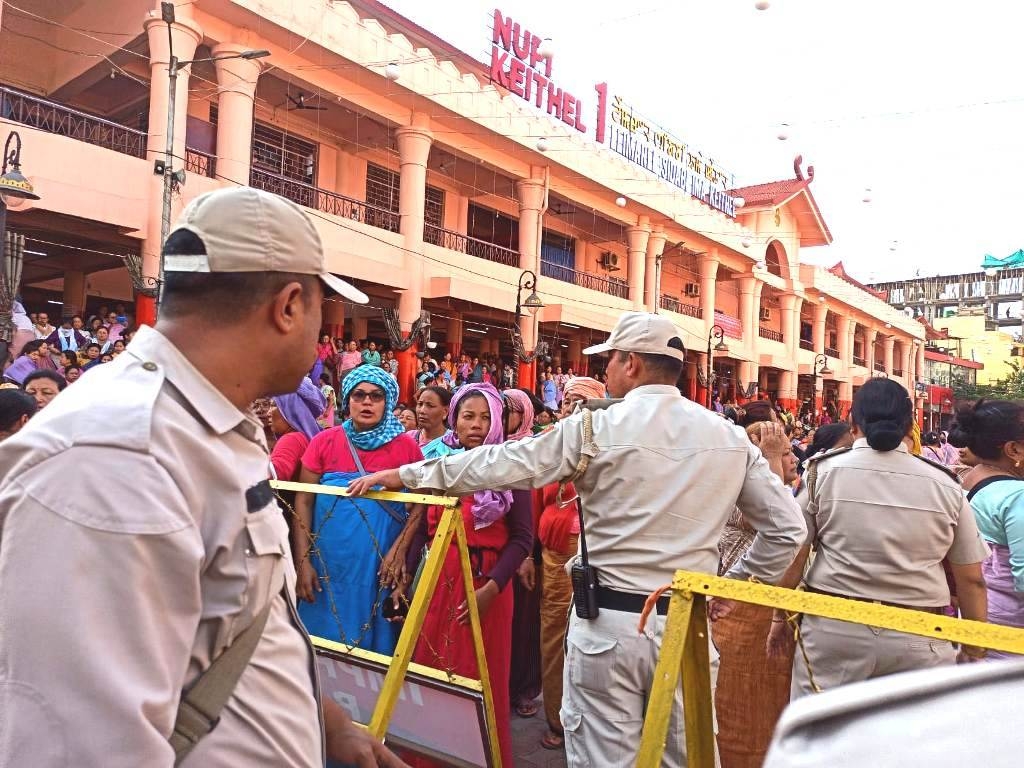 IT News
Imphal, June 29:
Vendor women of the three Khwairamband Keithel of Imphal today once more rises and staged protest by closing all the three Keithel after report of Meitei village defenders being killed in gunshots by suspected Kuki militants near Senjam Chirang village of Imphal West.
At around 1 pm today, Keithel mothers shut their vendors and gathered on the road in between the two market sheds of Thangal Bazar. The women demanded the Chief Minister to clarify his stand to the present condition of the state.
Talking to reporters, the Keithel mothers said that Chief Minister N. Biren Singh while talking to media had stated that the Union Home Minister had assured him for control of the armed Kuki militants under suspension of operation. Why are Meitei being killed at the periphery areas? Why are those militants not controlled by the Union Home Minister?, women vendors of the Khwairamband Keithel.
Women Meira Paibis from various areas including from Lamsang area also came and joined the mothers of the Khwairamband Keithel. A Meira Paibi identified as Nirupama Laishram from Lamshang said that they cannot remain quite as more and more Meitei village defenders and civilians. She said that they are left with no choice but to came out at the street and protest for protections of the common people.
She said that since early morning the militants attack the Meitei villagers using powerful bomb.
"We are very angry to CM N. Biren and the Union Home Minister Amit Shah, they have assured to control the valley and the hill but people continue to die", Nirupama said.
As the women vendors and the Meira Paibi came to the street closing their vendors, state police led by the Imphal West district SP S. Ibomcha and OC Imphal West Ingocha rushed to the site and tried to calm the women. Heated argument occurred between the women and the police personnel happened at Khwairamband Keithel.