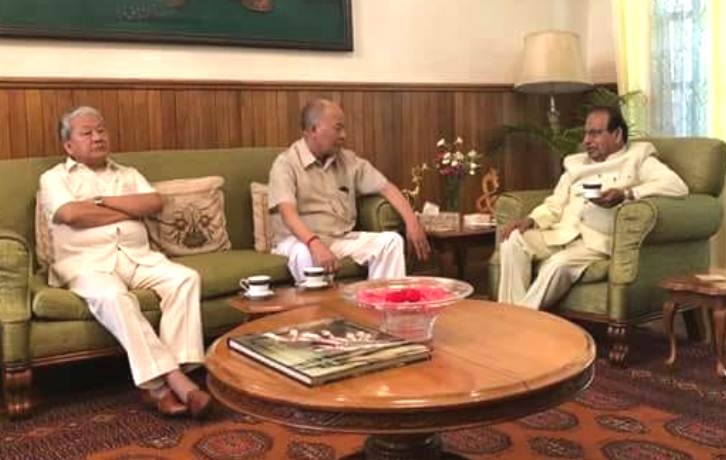 DIPR
Imphal, may 18,
Political development in Karnataka State Assembly at which the governor of the state Vajubhai Vala invited BS Yeddyurappa of BJP to form the government on the basis of being the single largest political party has sparked another political conundrum in Manipur prompting the Manipur Pradesh Congress Committee swung into action demanding dismissal of the present BJP led government.
Leader of the opposition Okram Ibobi, today submitted a memorandum to the governor of Manipur requesting for dismissal of the present Government and to invite the congress party to form the government.
Speaking to media persons after submitting the memorandum at around 12 noon today, Okram Ibobi said that congress party win 28 seats in the last assembly election when the BJP won in only 21 seats. But the governor of Manipur Dr. Nazma Heptulla instead of inviting the single largest party invited BJP which form post poll alliance with NPP, NPF and some others.
Ibobi said that his party had explained the in charge – governor, Prof. Jagdish Mukhi about position of the congress party.
"Karnataka Governor had invited the BJP to form the government where there is no magic number, so why not Manipur also be given the same opportunity", Ibobi said.
In the memorandum submitted to the Governor of Manipur the Opposition leader stated that the term of the 10th Manipur Legislative Assembly expired on March 18, 2017 and the new house was constituted only on March 19 , 2017 by the order of the Election Commission of India dated March 14, 2017, where it was clearly mentioned that the life of the 10th Assembly will expire on March 18 or a date when the that time government resigned and sought dissolution of the house. However the governor invited the leader of the BJP Legislature Party to form the government and the Chief Minister and his council of Minister was sworn in on March 15, 2017even before the 11 Manipur legislative Assembly was formed.
The memorandum also stated that such is a total violation of the constitution of India and the law of the land.
The Opposition Leader Okram Ibobi also charge that the present government was sworn in illegally and urged him to dissolve the house and to invite the single largest party Congress to form the government.
Ibobi while speaking to media persons had also stated that the party should be given chance to prove majoiryt in the house if fails the congress is ready to step down.