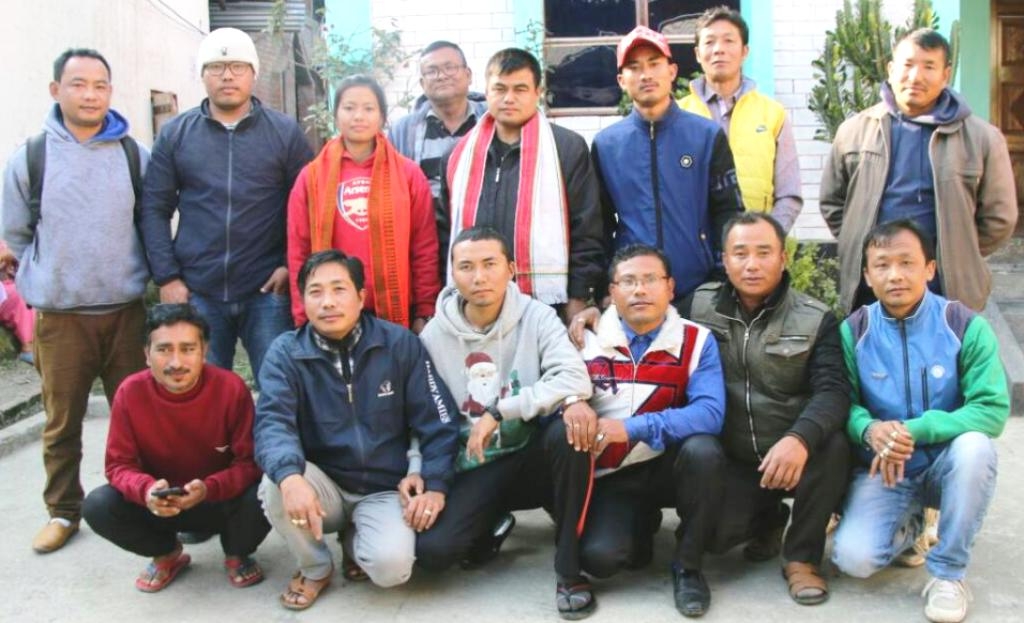 Imphal, Jan 16: All Bishnupur Dist. Working Journalist Union (ABDWJU) organized a felicitation function of Dr. Huidrom Romen, V/P of ABDWJU and Dist. Correspondent of Imphal Free Press along with H. Romibala Chanu Publicity Secy. ABDWJU and Dist. Correspondent of Thoudang at Nachou yesterday for the various sporting achievements including gold medals at the national level.  
Yumnam Samananda Meitei, President ABDWJU, A. Kishankumar Gen. Secy. ABDWJU and other office bearers of the union were present at the function. H. Ronibala Chanu clinched the gold medal in Kick Boxing Senior Women's 50 Kg Category at the 2nd Annual national Martial Arts Games & Festival held from 27 to 29 December 2017 at Bhogeshwori Phukanani Indoor Stadium Dispur, Guwahati jointly organized by Chinese Kung Fu Federation of India and Bishn Martial Arts Academy under the supervision of Global International Martial Arts Federation.
Dr. H. Romen Singh was honoured with the India Gandhi national Excellent Award 2017 in the field of Youth Development on the Death Anniversary of Indira Gandhi on October 29, 2017 at a function organized by National Combat Games Council and Martial Arts Association India under the aegis of Martial Arts Association Asia. Dr. H. Romen Singh was also awarded Best Publicity Lifetime Achievement Award 2017 for his efforts to promote and popularize the sport of Kung Fu at a function organized by the All India Kung Fu Federation (AIKF) on December 30, 2017 at Dimapur Nagaland. The two outstanding sportspersons were presented with a stole and cash incentives of ' 5000 each.  Lauding the efforts of the two journalists, Union President Yumnam Samananda praised the dedication the two have shown in pursuing their passion while dealing with the hectic schedule of a journalist and wished them more laurels and greater achievements in the future.