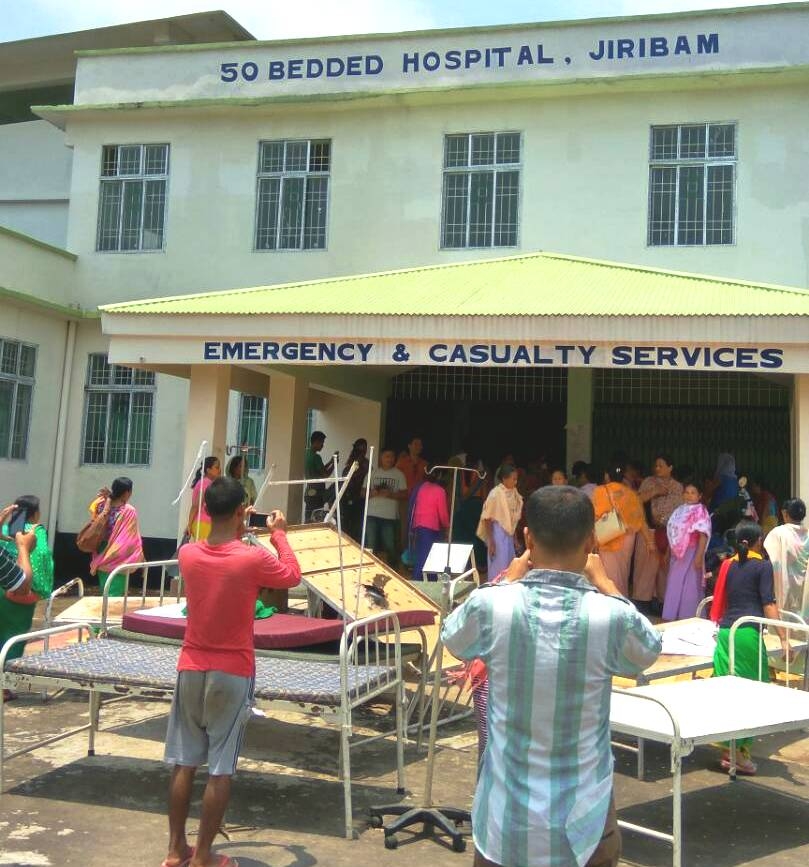 Imphal, May 26: Annoyed at the inability of the state government to introduce modern health care facilities several months after its establishment, a mob today vandalized the building of District Hospital Jiribam.
The people of Jiribam had fought a long battle to impress upon the state government on the need to establish a hospital there as an improvement in medical treatment to the existing primary health centre. All problems appeared to have been solved when the then chief minister Okram Ibobi dedicated to the public the new hospital on October 31, 2016.
The expectation of the people was undone quickly as the authorities failed them in furnishing the necessary facilities of a hospital even after sufficient time had lapsed.
They were feeling betrayed and raised their voices against the government, an angry agitator stated maintaining that taking equipment from the primary health centre and placing them at the hospital is like treating them as meek and ignorant people which is wrong.
The people had never complained that the condition of the building of the PHC was bad and raised the demand for a hospital expecting the full facilities of one, he added.
Pointing out the administrative failures, the local people complained even though there is ambulance there are no drivers, the nurse staffs and sanitation staffs are absent and laboratory testing facility is still not available.
According to them, the hospital does not have a single specialist doctor and the doctors posted there do not stay there for considerable length of time as they are constantly transferred. It is amazing that the health minister has announced a transfer policy but the doctors are being transferred with such frequency, one of them stated. One of the staff was reportedly transferred thrice in a single month.
They questioned what development package has been taken up for Jiribam district and why the government is hesitant on cracking the whip on errant employees who appeared to consider postings at Jiribam as exiles.  
The public has castigated the local MLA for his inability to sort out the problems of inefficient functioning of the hospital and requested his resignation if he finds it impossible to carry out his responsibilities.