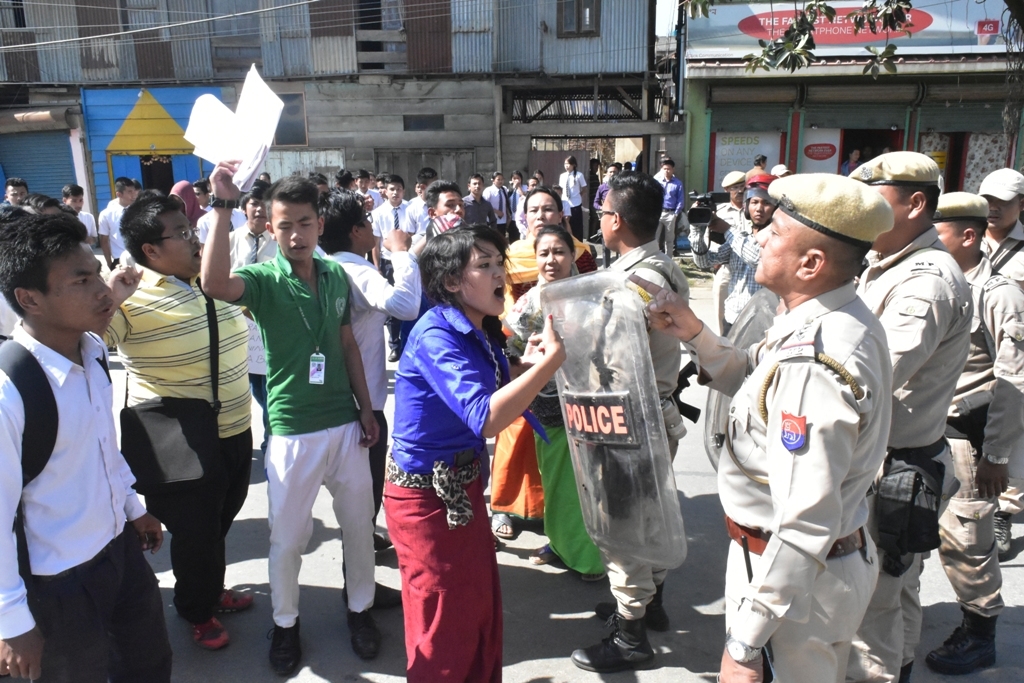 Imphal, May 9: The ongoing agitation spearheaded by the Joint Committee on Inner Line Permit System demanding implementation of the Inner Line Permit System in the state today once more turn ugly with students wing volunteers confronting the police personnel which intervene them.
A day after Meira Paibi and club volunteers staged a torch rally in at various places of the state including greater Imphal area yesterday evening, large number of JCILPS Students Wing Volunteers today staged another rally at Uripok Kangchup road in Imphal.
The JCILPS has been demanding the state government to implement the agreement signed between the government and the JCILPS members which are under the state list. The committee also blamed the government and other political parties of the state for remaining quite instead of pressing the central leaderships to get assent of the three ILPS related Bills which are pending at the president table.
Around 1 pm today afternoon , large number of students from schools at Uripok area today gathered at Lamboi Khongnangkhong in Imphal West and started marching towards Khwairamband Keithel site.
The students volunteers were joined by various groups of women Meira paibi. Slogans for implementation of ILPS were shouted during the rally.
When asked the destination, a student volunteers said that they on their way to the Chief Minister's Bungalow.
However, as the students' volunteers and and the women meira paibis reached Petrol depot near BT road fly at Uripok Gopalaji Leirak Machin area a strong team of City Police headed by Officer -in Charge Inspector Sudhir prevented them from proceeding forward.
Interestingly, a student volunteer, identified as Bidyalakshmi, the girl student who spearheaded at various agitation last year confronted the police personnel for stopping them.
Bidyalaksmi was the girl student who was brutally assaulted by a police officer in front of Secretariat last year for staging protest in front of the office. She later, underwent a fast unto death protest in front of Ananda Singh Higher Secondary Academy at Soibam Leikai along with various other students until the state legislative Assembly passed the 3 ILPS related Bills on August 31 last year.