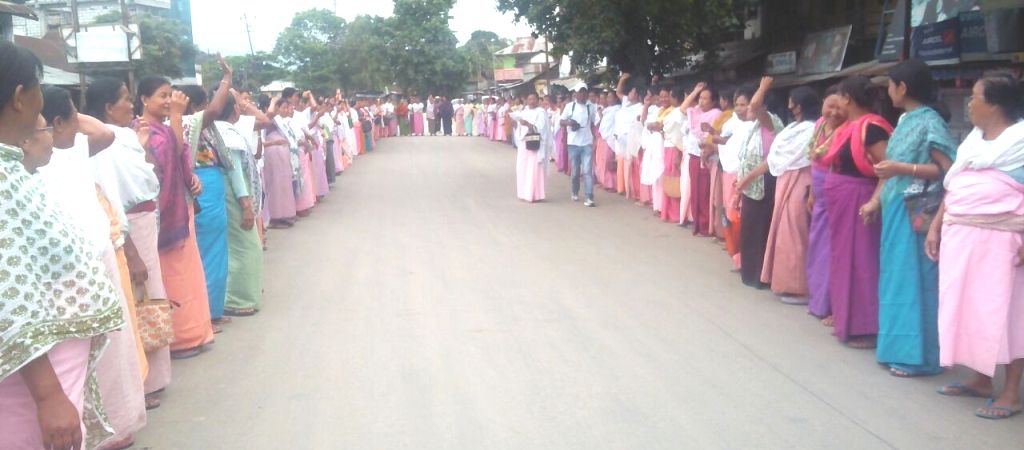 IT News
Imphal, June 12: Demands for implementation of the Inner Line permission system in the state under the aegis of the JCILPS is being underway on phasewise manner. But unlike those violent protest witnesses in the state during the last couple of weeks, the protest being underway on phase wise manner showed a sign of real democratic protest.
As announced by the JCILPS mass sit-in-protest was staged today at different places in between Chingmeirong to Sekmai in Imphal West. Protestors blocked half of the highways at the site where they staged the protest but allowed the other half for vehicles to pass through.
Reporters, witness large number of women folk staging protest at Chingmeirong, Sangakpham, Khabam, Koirengei, Pheidinga, Nilkuthi , Maharabi and Sekmai Keithel.
Banners and placards demanding implementation of the ILPS besides denouncing the wanted tag to former ILPS convenor Kh Ratan were displayed during the protest.
The Protestors later formed human chain at around 2.30 pm from Chinmeirong till Sekmai area and shouted slogans demanding implementation of the ILPS.
Anti-ILPS Bills protest underway
On the other hand volunteers and the women folk of the anti-ILPS Bills continue to stage sit-in-protest at Salphate Pumbuk, Hiangtam Lamka in Churachandpur district head quarter.
Even as the protest of both the anti Bills and the pro Bills is being underway, government seem to be taking up no initiative to bring an end to the ungoing protest of both the opposite party.
It is made to public that, of the 3 ILPS related Bills the president of India has decline to give assent to only one Bill that is "The Protection of Manipur  people Bill, 2015". The other two Bills already got green signal from the central government as it is being studied for reasonable conclusion.
The silence of the state government on what to move ahead after their recent visit to New Delhi for apprising the central leadership to get the Bills presidential assent is being criticized by political analyst.