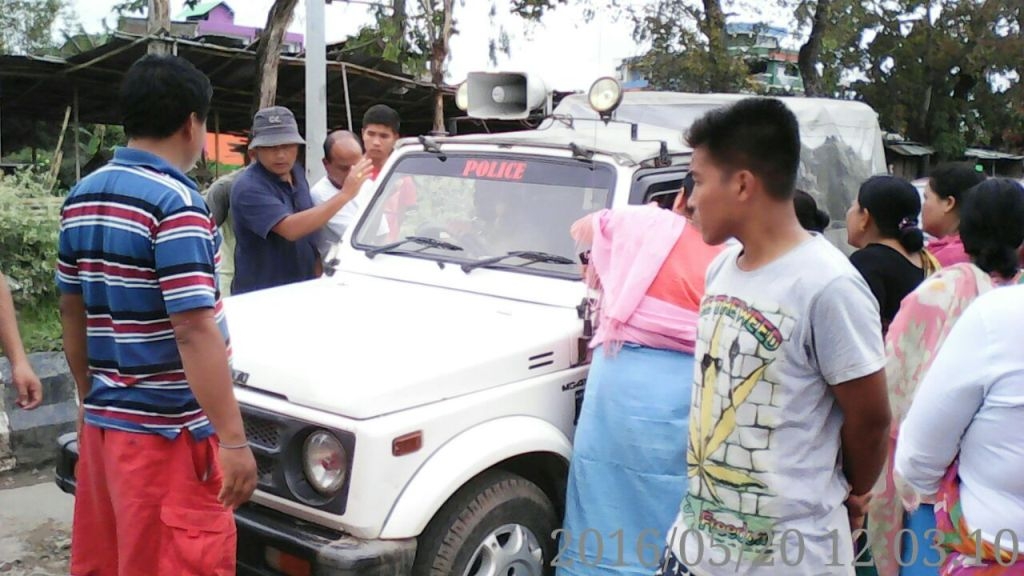 Except for rituals and medical purposes, all vehicles including police were force to turn back at some places
IT News
Life in Imphal and other valley districts of the state freezes today as JCILPS intensify their agitation demanding implementation of Inner Line Permit System by calling 38 hours cease work strike from  4 am today. As announced by the convenor of JCILPS Kh Ratan in yesterday's press meet large number of people today came out in the street and staged protest at their respective localities in Imphal area. The protestors also blocked all sorts of vehicular movement. However, those coming for rituals and mical purposed as well as students appearing the ongoing BA/BSc examination were allowed to pass.
Khwaramband Keithel and other business establishment in and around Imphal area down their shutters.
At Keshampat, women protors came out in large number and blocked all sort of vehicular movement. Police team while trying to clear the road fire rounds of tear gas shells. At least two women protestors sustain injury in the police action and both were rushed to RIMS hospital at 3 pm today.
At Uripok, Kangchup road meira paibi and club members even burn tyres and placed poles across the road blocking the road. Meira paibis were seen staging protest at the road side with placards demanding implementation of ILPS as well as punishment of the police officer who had allegedly assaulted a lady protestor.
At Keishamthong Elangbam Leikai area in MI road large number supporters blocked all passerby including vehicles of the police personnel as well as the army.
At around 1 pm three army vehicles were forced to turn back by the protestors at Keishamthong Elangbam leikai area. However a Police commando team coming in a gypsy vehicle using loud speaker asked the protestors to let the army passed. As the police shouted using load speakers to allow the army the three army vehicles passed. Later, the irate protestors turn to the police team and confronted for a while and asked them to return back.
At Langjing area too women folk of the area staged protest by blocking the road.
At Thoubal district too the 38 hours cease work agitation has severely affected normal life. Various places including Haokha, Kiyam, Wangjing, Khangabok, Yairipok Machin large number of protestors came out in the street and staged protest blocking the road.