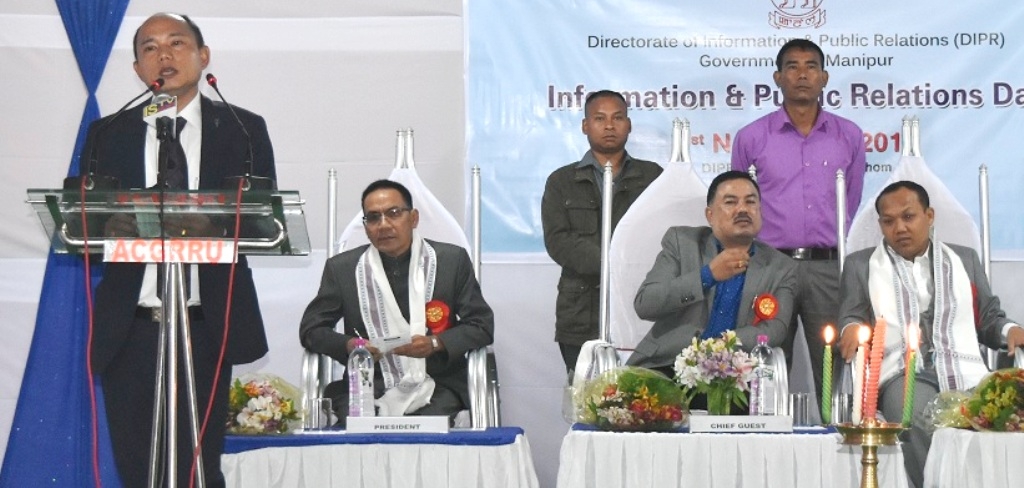 Education Minister, M Okendro, who is also the spokesperson of Manipur Government cautioned the media fraternity of the state from publishing stories that may provoke hate feelings to the various ethnic community of the state. Speaking as Chief Guest, at the 66th Information and Public Relation Day observed by the Directorate of Information and Public Relation at Moirangkhom, here in Imphal, Okendro said that media plays important role in maintaining peace and tranquility in the state.
"Some vested interested people are trying to disturb the harmonious relationship between the Hill and plain people and people in the media should know it", said the Education Minister.
He said both print and electronic media should restrain from negative reporting which might provoke hate feelings to different community. He further added that the state government will soon come up with a new policy to monitor the news content of the state media.
About upgrading the DIPR into a major department, Okendro said that the government has already approved for recruitment of 58 to 60 staffs to fill the vacant posts in the department. He also added that process is on to procure equipments for the department.  Parliamentary Secretary, IPR & MI, K. Meghachandra, who preside over the observance function also lauded the roles being played by the media in the state."In democracy media plays crucial roles, it bridge the gap between people and the government", Meghachandra said. The first Publicity Officer of Manipur Government was appointed on November 1 in 1949. Late Rajkumar Maipaksana Singh was the first Publicity Officer of Manipur.
The Information and Publicity office became a Directorate in March 1974 with the appointment of Director and Ex-Officio Secretary.
The Directorate extended its services to the district headquarters by posting Reporters and Information Assistants in districts in 1978.Manipur Information Centre (MIC) was opened at New Delhi in 1981.
IPR Principal Secretary Letkhogin Haokip, who was also present at the occasion stressed the need for bridging the gap between people of the hill and valley through DIPR.
On the occasion prize winner of the Photo completion organized by the DIPR were also conferred certificates, mementos and cash awards. The photo competition was held in four theme. Under the theme "Unity in Diversity",  Arbind Sorokhaibam bags 1st Position,  Devendra Hijam bags 2nd Position and R.K. Nepolian bags 3rd Position.
On the theme "Manipur Marches Ahead", Oinam Deepak bags 1st Position, Kosygin Leishangthem bags 2nd Position and  Bimal Thongam bags 3rd Position.
On the theme  "Environment, Ecology & Ecotourism of Manipur", Arbind Sorokhaibam again bags 1st Position, Oinam Deepak bags 2nd Position and  Longjam Himmat bags  3rd Position.
In "Candid from the Streets of Manipur" theme, Ranabudhi Nongyai bags 1st Position, Nikhil Prasad bags 2nd Position and  Soibam James bags 3rd Position.