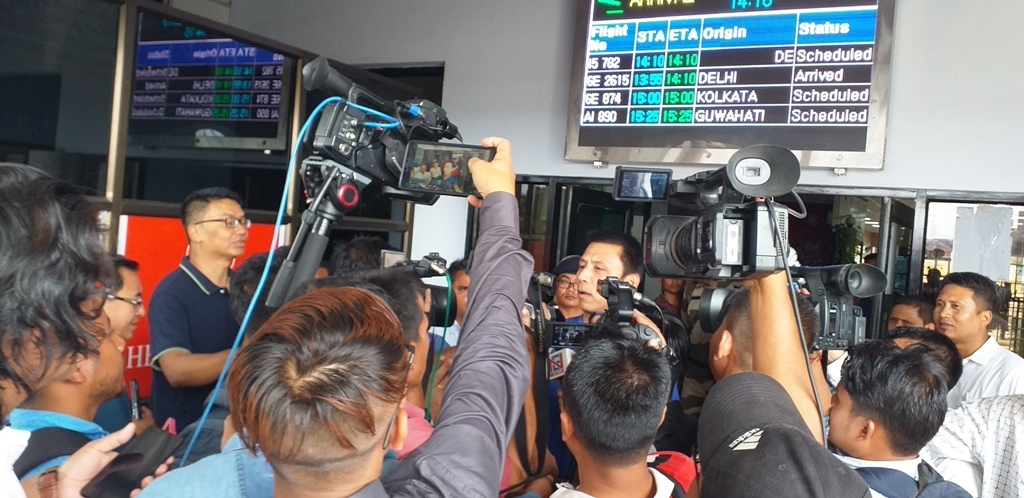 IT News
Imphal, June 16,
Face is the index of mind – and spokesperson of the Manipur State Government, Th. Radheshyam, who is also the Education Minister, looks free from anger and anxiety but was confident to reply to reporters' query regarding the ongoing political crisis in the N. Biren Singh led government. 
 "It is internal matter of the party and the differences will be sorted soon", Education Minister Radheshyam said to reporter soon after he landed at Imphal Airport today afternoon. MLA S. Rajen and MLA Vungjagin Valte also return back along with the government spokesperson.  
The government spokesperson also accepted that there is crisis in the government over dissatisfaction but there is nothing to be surprised. Even family members sometimes quarrel over dissatisfaction but resolved soon.
On being asked whether the key portfolios which were vested to the Chief Minister (Finance from Dy. CM Y. Joykumar; PWD and Power from Minister Th. Bishwajit) will be restored or not, the Government Spokesperson said that it will be decided soon after the coming of the Chief Minister.
On the talk about camping by Ministers and MLAs at New Delhi lobbying for the change of the Chief Minister, Radheshyam said that the visit by ministers was only to give courtesy call to the new NDA Government and to meet the newly inducted ministers.
"As for me I have visited to apprise the education scenario of the state to the new Union HRD Minister and the Union Minister assured to sanction 200 crore for development of state education sector", Radheshyam said.
Similarly, Chief Minister N. Biren Singh went to New Delhi to give courtesy call to the Central leaders and newly inducted Minister.