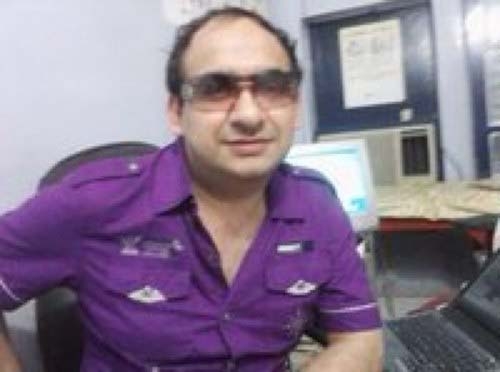 IT News
Mumbai, Jan. 22
Leading Indian Obstetrician and Gynaecologist Dr G K Tripathi (47) died due to geyser gas poisoning in a bathroom in Kandahar in Afghanistan on Monday. He is survived by wife Dr Vibha and two children.
Dr G.K. Tripathi, had gone to Kandahar, with his fellow doctors, for a workshop which was to be held between 21 January and 24 January, 2020. However all of a sudden this tragedy struck sending shock waves in India and abroad. His mortal remains are expected to arrive in India within a day or two after formalities including autopsy, are carried out by the Afghanistan authorities.
In Afghanistan, the gas based geysers are being used in most of the households and hotels. Due to which leakage of carbon monoxide is not uncommon. At present Afghanistan faces (-) 0 degree temperature due to which people find it very difficult to handle their daily chores.
Gas geysers consume oxygen to generate heat for warming water. In an ill-ventilated bathroom, they can consume the entire oxygen forcing a person to breathe in carbon monoxide — a known cause of epileptic seizures and brain damage.
Dr. Tripathi, based in Uttar Pradesh, was running a hospital at Azamgarh and was attached to the Rajeev Gandhi Memorial Hospital and Research Centre at Heerapatiil, Azamgarh. He was also the Secretary of the Azamgarh Obstetric and Gynaecological Society of India and a member of the Federation of Obstetric & Gynaecological Societies of India (FOGSI).
He used to organise conferences, CME's, IUI, IVF workshops all over India and abroad. He had started many IVF clinics and consultations in New Delhi, Thailand, Afghanistan, and Azamgarh(Uttar Pradesh). He was very successful Obstetrics and Gynaecology consultant.
Dr Tripathi, who had done his post graduation from Wadia Hospital and KEM Hospital in  Mumbai in 1990s, had later shifted to UP and had set up his own hospital, along with his wife Dr Vibha Tripathi. He was a member of Mumbai Obstetrics and Gynaecology Society. Besides he was the founder Hon President of the  Delhi State Chapter of Indian Society for Assisted Reproduction (ISAR),  Delhi State Chapter of Indian Society For Prenatal Diagnosis And Therapy (ISPAT).  He was a pioneer to start "Hands on Training Module for "  Ovum pick up & Embryo Transfer Simulator, USG Phantom,  Hysteroscopy Simulator/Phantom and PESA/MESA/TESA Hands on Goat Testis".
His close colleague, Dr. Niranjan Chavan, a Mumbai based Gynaecologist, running "Chavan Maternity Home" said that " Dr.Tripathi was talented and versatile Obstetrician and Gynaecologist. He used to always like, comment and compliment other Obstetrics and Gynaecology members on whatsapp and Facebook in seconds with a positive outlook and a graceful smile. He was pioneer to start Facebook groups in India and had added thousands of gynaecologists in his more then 20 groups namely IVF, Infertility, oncology, Post Graduate
Obstetricians and Gynaecologists groups etc. One of the group was Gynaecologic Oncology Group of India (GOGI) where I am the admin. GOGI has more then 6000 members from all over the world. Dr Tripathi had strong determination to become the Vice- President of FOGSI. But had lost twice in the election although he was very popular amongst the gynaecologists".
In the meanwhile the people in Mumbai have become wary of the gas based geysers following the recent death of a 15 year old girl Dhruvi Gohil in Borivali in North Mumbai. Dhruvi who suffered, from hypoxia from carbon monoxide poisoning, caused due to emissions from a bathroom-fitted gas geyser, on 5 January, succumbed at Mangal Murti hospital at Gorai in Borivali, where she was undergoing treatment, on 10 January, 2020.