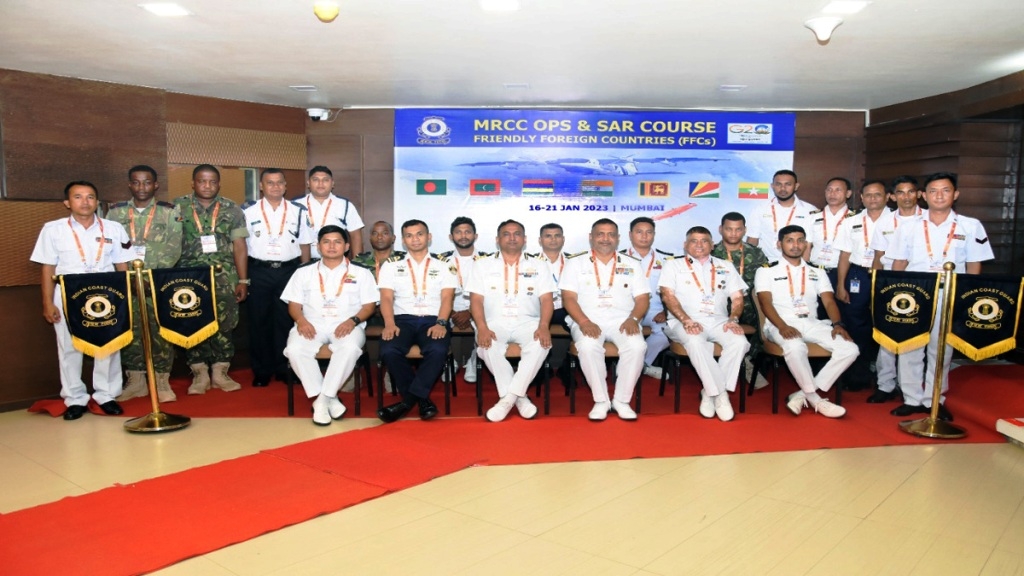 By Raju Vernekar
Mumbai, Jan 17:
A one week long search and rescue operations (SAR Op) course began at the Indian Coast Guard (ICG) Western Region's Maritime Rescue Co-ordination Centre Mumbai (MRCC) on Monday.
The course organised under the aegis of the Indian Technical and Economic Cooperation Programme (ITEC), was inaugurated by Commander of the ICG Western Region(COMCG) Manoj Baadkar. 22 officers from Mauritius, Bangladesh, Myanmar, Seychelles, Sri Lanka and Maldives are attending this course.
ITEC is administered by the Development Partnership Administration-II Division of the Ministry of External Affairs. Instituted in 1964, it is one of the oldest institutionalized arrangements for international capacity building having trained more than 200,000 officials from over 160 countries in both the civilian and in the defence sector.
Since 2014, India has offered close to 100,000 world-class capacity building trainings and scholarships at premier institutions in India, along with a chance to experience the culture and hospitality of India.
Apart from the regular calendar-based training programmes, India also responds to country-specific requests for training in specific areas of governance by organizing customised training programmes which are designed and delivered by the leading institutions in India.
Today, ITEC utilises a bouquet of varied modalities to meet its mandate of capacity building. Even as we have re-commenced in-person (or on-campus) courses, we have also introduced modalities like eITEC (for online trainings using digital delivery platforms), ITEC-Executive (short-term policy-focussed, in-person trainings for senior government executives), ITEC-Onsite and ITEC-Expert (onsite capacity building assignments carried out by Indian experts).
In another development as a run up to the Coast Guard week celebrations, a visit of school students to ICGS Sankalp was organised in Mumbai. The students, teachers, NCC cadets visited the ship. They were explained about the role and function of ICG. On the occasion, the students expressed desire to join the forces.
The Indian Coast Guard Day is celebrated on first February every year. This year, India will be observing the 47th Indian Coast Guard Day. Coast Guard Day is celebrated in honour of organisations from every country that look after maritime security and also the need of a country.