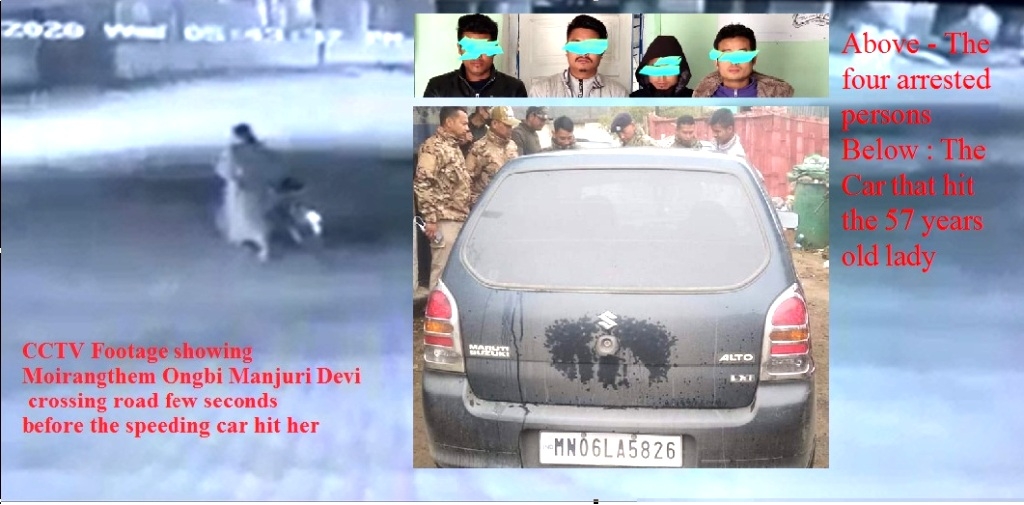 IT News
Imphal, Jan. 31
The proposed indefinite bandh which is set to begin from 4 pm today demanding arrest of the person involved in the hit and run case on Jan 29 evening near KM Blooming Higher Secondary School at Khangabok in Thoubal district has been dropped after police recovered the vehicle which hit and killed the 57 years old lady and arrested four person who were in the car at the time of the incident.
CCTV video showed the lady Moirangthem Ongbi Manjuri Devi crossing road at NH-102 carrying a bicycle when she was hit and carried away by a over speeding car.
Wrath over the accident locals of Khangabok staged protest and also convened a meeting and formed a JAC to launch serious agitation including indefinite bandh along the Imphal-Moreh road from 4 pm today if police fails to arrest vehicle and the driver of the car.
Taking the matter with extreme seriousness, Thoubal police team after conducting thorough investigation over the matter  and finally succeeded in tracing the vehicle. Four persons including the drivers were also identified and the police team arrested all the four in connection with the hit and run case.
The vehicle that hit the lady killing her on the spot is a blue colour Maruti Alto car bearing registration number MN-06 LA 5826. The four persons who were arrested are identified as
Waikhom Buten @ Ellubi singh (27) s/o w. Kumar Singh of Thoubal Bazaar Makha Pakhangkhong Leirak, Kshetrimayum Kanan @ Anand Singh (27) s/o Ksh. Rajen Singh of Thoubal Haokha Kiyam Siphai, Romen Thingujam (27) s/o Th. Munal Singh of Thoubal Haokha Kiyam Siphai and Waikhom Robinson Singh @ Maru (27) s/o W. Inao Singh of Thoubal Bazaar Makha.