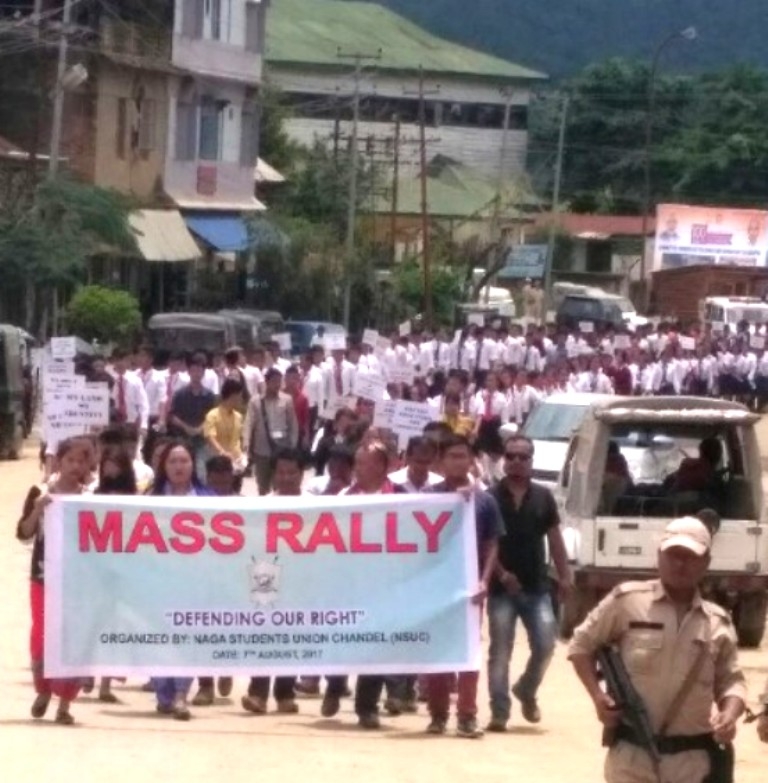 Chandel, Aug 7: Non-availability of drinking water, non-maintenance of roads, transfer of lecturers from United College Lambung without any replacement and other negligence by the state government in taking up developmental works of Chandel districts today takes out thousands of students and civil society leaders on the road of the Chandel district head quarter carrying banner and placards drawing attention of the state government.
The memorandum drew the attention of the Chief Minister over the issue of non-availability of drinking water in Chandel district. It said the matter has been graved to the Deputy Commissioner many a times but no means to provide drinking water is initiated by the department concerned thus far. After the flood in 2015, people have been facing water scarcity literally, and with numerous memorandums submitted to the Government, yet all pleas & grievances were ignored. The Union has appealed for a siting with PHED Chandel to sort out the matter however the district administrator is adamant to arrange such meeting.
The memorandum also urged for immediate attention to the sorry state of the Chandel district hospital. It said the hospital administration is plague with the absence of Medical Superintendent and Nursing matron or Sister-in-charge besides the pathetic equipment being installed with Zero result eg Ultra sound & X-ray machine, etc.  
The memorandum also terms the transfer of 26 teachers from The United College Lambung Chandel as abrupt deprivation of the 626 students who are currently enrolled in the college.
It also denounced granting of non residence students to JNV Chandel.
The memorandum also drew the attention of the government to reorganize police jurisdictions in the aftermath of the new district creation. Besides, it also urged for construction of the FCI godown at Liwa Khullen which was already approved in 2013.