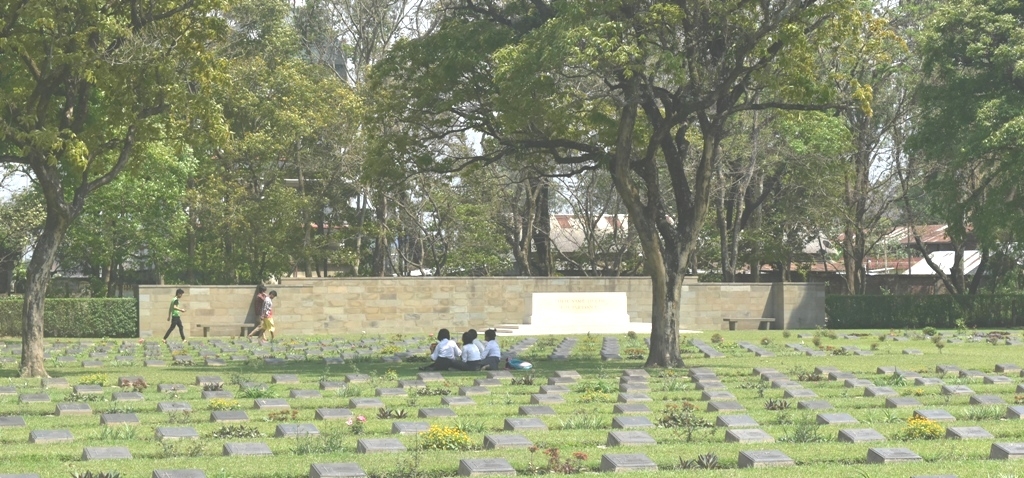 Laishram Ranbir
Imphal, April 10: The historic Imphal War Cemetery situated at Dewlahland here has become a safe place for youths to indulge in bad habits like drug abuse, Bunking Class and illicit romantic affairs.
The War Cemetery is the memorial place for war heroes, who laid their souls in the Battles fought at different parts of Manipur during the II World War. In remembrance of the war heroes, every year many people from across the world and family members of the late soldiers of II World War are visiting at the memorial park to pay homage to them.
However, in a manner of disrespecting the great souls some people especially teenagers, lovebirds and miscreants have stamped upon the memorial grave stones of the war heroes, whose mortal remains are lying beneath the graves of war memorial park. Various students from nearby and far off places are seen spending a leisure time at the memorial site. However, if someone has a close look it would be an unbelievable sight for a new comer to know the fact that what these youths are actually doing with their friends behind the trees and flowers growing inside the cemetery premises.
One of the gatekeepers of the War cemetery informed this reporter of Imphal Times that the as per the safety and protection norms, the war burial ground is not open to all except on special occasion and for tourists, who are the ancestors of the soldiers, war veterans and war historians. The place is closed all the time; however, some people simply violate the restriction and forcefully enter inside the park. When attempted to stop at the entrance, they even manhandled with the caretakers.
Imphal War Cemetery has become a safe place for college students who bunked their classes and lovebirds. Worsening the scene, local miscreants and drug users have spoiled the milieu of having a memorial place with their discourteous behaviours affecting the mindset of tourist as well as war veterans about the place.
While different student's bodies, women organizations and civil society are vandalizing hotels and restaurants established at different part of the State, a sacred place like Imphal War Cemetery, where history of the war Heroes of the II World War  is on the verge of transforming into a drug house and lovers point.
"Government authority should look into the matter before the situation run out of hand; action should be taken whether my sons and daughter are involved in such activity" said a parent whose name don't want to be mentioned.